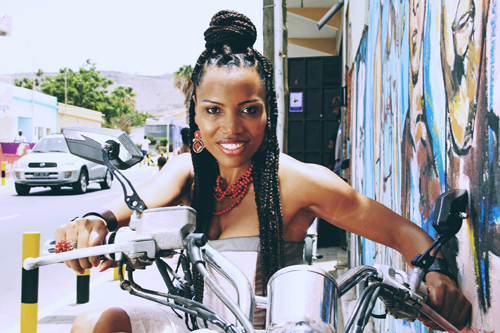 Born in Lisbon in 1975, Lura discovered her Cape Verdean identity (while remaining fully Portuguese) through the Creole she learned with her friends at school. As a child, she wanted to be a dancer. Later, she taught swimming. Finally, music drew her from the swimming pool.
Her first eponymous album with the famous song "Nha vida" was released in Lisbon on the 31st July 1996, her 21st birthday. Lura's extraordinary voice shines on this record, which includes some of the greatest performers in the Portuguese-speaking world: Marisa Monte, Caetano Veloso, Teresa Salgueiro, Filipa Pais, Djavan and Bonga.
In 2002, Lura released her second album, In Love, with the Lusafrica label. She wrote seven of the twelve songs.
Lura's 2004 album, Di Korpu Ku Alma (Of body and soul) fully justifies one's most optimistic predictions.
Discography:
Nha Vida (Sons d'africa, 1996)
In Love (Lusafrica, 2002)
Di Korpu Ku Alma (Lusafrica, 2005)
M'bem di fora (Lusafrica, 2006)
Eclipse (Lusafrica, 2009)
Herança (Lusafrica, 2015)