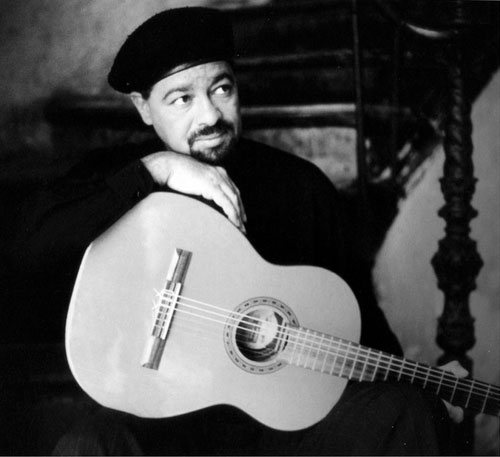 Ildo Lobo was born November 25, 1953 in Sal, Cape Verde. In his native Cape Verde, Ildo Lobo was seen as one of the archipelago's greatest singers, heir to a tradition shaped by Bana and popularized worldwide by Cesaria Evora. Lobo also had strong political commitments and his plain speaking was legendary.
For years, he was the singer and star of the Os Tubaroes group, long viewed as Cape Verde's "official" band in the days of the Marxist government. As such, he regularly traveled abroad to represent his country. Os Tubaroes (The Sharks) became the ambassadors of Cape Verdean music, exporting their funana, coladera and morna beats all over the world.
One of its particularities was that none of its members was a full-time musician; they were also lawyers, doctors, civil servants and so on. In fact, Ildo Lobo was a customs officer. It was difficult to keep up another career while working in the performing arts, but in countries such as Cape Verde, it is rarely an option for musicians to practice their art full-time.
In 1996, Ildo Lobo recorded his first solo album, Nos Morna. The record was a tribute to his father who had died a few years before and was composed entirely of mornas. Antoninho Lobo was one of Cape Verde's great singers, leaving his personal mark on the morna played on the island of Santiago, and his son is carried on the tradition today. Nos Morna was produced by Mario Lucio, the charismatic front man of the band Simentera, and recorded in Paris with the finest musicians from the island of Santiago.
In 2001, Ildo released his album entitled Intelectual still in partnership with his old songwriting companions, but accompanied by Cesaria Evora's musicians this time.
After some health problems that kept him away from his musical activities for a while, Ildo returned to the studio during the summer 2004, together with Cesaria Evora's musicians. The pianist Fernando (Nando) Andrade, who made the arrangements on Cesaria's previous two last albums, produced the album.
Incondicional, whose title clearly illustrated the singer's uncompromising character, opened with the last morna he wrote: Nha Fidjo Matcho, the advice of a father to his son. It also featured Alto Cutelo, a coladera written by Renato Cardoso (one of Amilcar Cabral's political heirs, who was mysteriously assassinated at the start of the 1980s), two songs by Betu (Adalberto Silva, his constant companion) and three by Constantino Cardoso (Ildo Lobo wanted to give the young writer his chance).
Ildo Lobo died of a heart attack in the morning of October 20th, 2004, at his home in Praia, the capital of Cape Verde. He had been in poor health for a number of months.
Discography:
With Os Tubarões
Pepe Lopi (1976)
Tchon di Morgado (1976)
Djonsinho Cabral (1978)
Tabanca (1980)
Tema para dois (1982)
Os Tubarões (1990)
Os Tubarões ao vivo (1993)
Porton d' nôs ilha (1994)
Solo Albums
Nôs morna (Lusafrica, 1996)
Intellectual (Lusafrica, 2001)
Incondicional (Lusafrica, 2004)