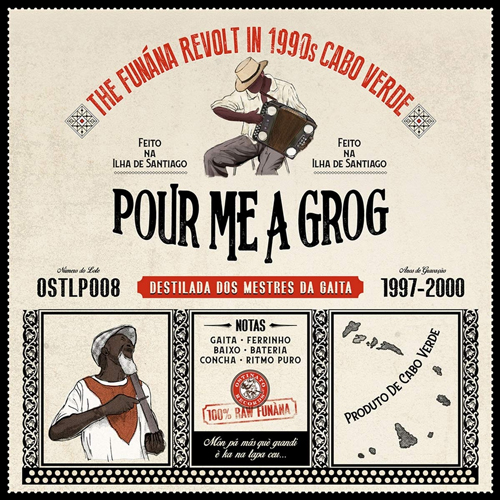 Various Artists – Pour Me A Grog: The Funaná Revolt in 1990s Cabo Verde (Ostinato Records, 2019)
Pour Me A Grog: The Funaná Revolt in 1990s Cabo Verde is a tribute to the great masters of Cape Verdean funaná music. Funaná is upbeat, irresistible dance music from Santiago Island fueled by accordion (the accordion is known as gaita in Cape Verde) and supported by percussion, bass and a scraped iron instrument known as ferrinho that is used in Cape Verde.
This compilation brings together recordings by some of the finest artists in the funaná scene in the late 1990s, including many pioneering elders. These are high quality recordings funded by members of the Cape Verdean diaspora compiled by Vik Sohonie & Olav Aalberg.
The artists featured in Pour Me A Grog: The Funaná Revolt in 1990s Cabo Ve include the groundbreaking Ferro Gaita, one of the most successful acts in Cape Verde in terms of album sales, along with several other masters: Etalvinho Preta; Tchota Suari e Chando Graciosa; Avelino e Orlando Pantera; Peps Love; Bitori e Fefé di Calbicera; Orlando Pantera; and Fefé di Calbicera.
The physical CD version of the album is worth getting. It comes in a beautifully-designed hard cover book with fascinating artwork and extensive notes about the music and the artists featured. The design is by Pete 'Piwi' White and the illustration by Lauren O'Neill. The album is also available on vinyl and digital.
The album title refers to grog, an alcoholic beverage made in Cape Verde distilled from sugarcane.
Buy Pour Me A Grog: The Funaná Revolt in 1990s Cabo Verde