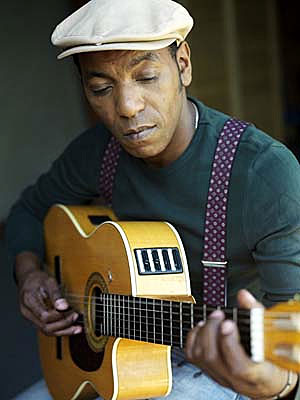 Aristides Paris, better known as Tito Paris, was born the 30th of May 1963 in a family of musical fishermen on the island of Mindelo. Tito received an invitation to play in Bana's group in Lisbon from the ambassador of Cape Verde music in Portugal when he was just nineteen years old. Since then, Tito has been living in Lisbon although he returns frequently to his native Cape Verde.
La Voz de Cabo Verde was his first group. He played drums then bass, until the day when Dany Silva pushed him to the front of the stage to sing. That was when things fell properly into place and Tito Paris began his career as lead singer.
Tito Paris wrote songs for Bana and Cesaria Evora. As a vocalister, he sings with a sensual, veiled voice, plays his guitar with consummate skill and surrounds himself with his talented family (one brother on drums and another on the bass). The result is a very solid band encompassing cavaquinho, guitar, violin and percussion. The blended sound is steeped with the pure Cape Verde tradition of mornas, coladeiras and funana, and incorporates the electric sounds of urban music.
Fidjo Maguado ("Wronged Son"), an instrumental recording, was Tito's first album, released in 1985.
For his album Guilhermina, Paris opted for the soft orchestration of string and brass instruments to bring out his guitar playing.
His live album Acústico was released in February 2007. Acústico features the live session of Tito and his band at the Aula Magna in Lisbon.
Discography:
Fidjo Maguado (1987)
Dança Ma Mi Criola (1994)
Graça De Tchega (Lusafrica, 1996)
Ao vivo no B.Leza (Lusafrica, 1998)
Ao Vivo (1999)
Guilhermina (Universal Music, 2002)
Acústico (Four quarters, 2007)
Mozamverde, with Otis (Key Productions, 2010)
Mim E Bo (Ruel Music, 2017)