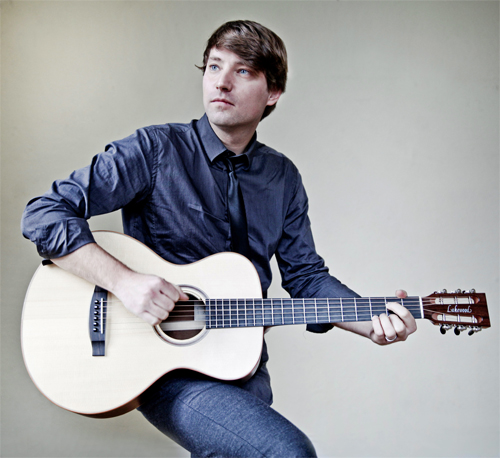 Daniel Stelter was born in Germany. His passion for music started early: he began playing the classical guitar at the age of eight, and was soon introduced to jazz, rock and pop music by his older brothers.
As a teenager he spent hours meticulously listening and playing to tunes from records and tapes. At the age of 17 he was a member of the Federal Youth Jazz Orchestra under the direction of Peter Herbolzheimer. During that time, Stelter toured for six weeks through Southeast Europe and recorded a CD.
After his graduation he studied jazz guitar with Norbert Scholly at the Johannes Gutenberg University in Mainz, but he never lost track of the classical guitar.
With Ulf Kleiner (piano), Tommy Baldu (drums) and Michael Pauker (bass) Stelter formed a quartet tha released several albums, including "Homebrew Songs" (2009) and "Krikelkrakel" (2012). The sound of the quartet is a symbiosis of classical guitar, mixed with a trace of electronic music, underlaid with a sound carpet of cool beats and a healthy dose of funk and soul.
In 2016 Daniel Stelter was recruited as guitar player for the NDR-BigBand and he accompanied jazz legend Al Jarreau on his tour through Europe, staging at Vienna's Konzerthaus, Olympia in Paris, Opera Garnier in Monte Carlo, Paradiso in Amsterdam, Performing Arts Center in Kristiansand, Alte Oper in Frankfurt, Philharmonie in Berlin and Kongresshaus in Zürich.
Also in 2016, Daniel Stelter released the record Live in der Stadtkirche with acclaimed Gypsy Guitar and Latin Swing guitarist Lulo Reinhardt, which quickly made "Record of the month" in the German NDR Jazz Charts.
Stelter is also a permanent member of the Ringsgwandl band, with whom he tours regularly throughout Germany, Austria and Switzerland.
Daniel and Lulo Reinhardt toured North America in 2018.
Discography:
Homebrew Songs ‎(Herzog Records, 2009)
Krikel Krakel ‎(Herzog Records, 2010)
Live in der Stadtkirche (DMG, 2016)
Little Planets (Herzog, 2016)
Kind Of Spain (ACT, 2017)
Humming Songs ‎(DMG, 2017)