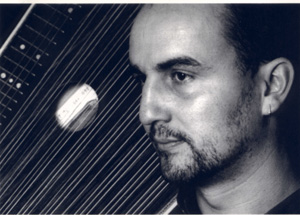 Robert Zollitsch is a noted composer, producer, director, ethnomusicologist, and musical painter. His compositions weave a delicate balance of his influences, fusing together elements of dramatically different cultures into a style that is uniquely Robert Zollitsch.
Zollitsch was born in Munich in 1966. He chose the Bavarian zither (a 42 string instrument with a five octave range) as his instrument early in his childhood. His studies in music theory, both in Munich and Berlin, strengthened his abilities to create. He made a quick decision to abandon the traditional ways of playing his zither, deciding instead to develop a new style of performance on an instrument steeped in the tradition of his cultural heritage. Zollitsch has adapted this new style to a wide variety of music.
His compositions and improvisations have been performed on classical stages, as well as folk and world music festivals and jazz clubs. In 1993, after receiving a German Academic Exchange scholarship, Zollitsch began to focus on Asian music. He studied Guqin (Chinese zither) at the Shanghai Conservatory of Music. From that time forth, he has continued to work on numerous projects with Asian artists. For example, in 1997, Zollitsch received a grant from the Berlin Senate to lay the foundation for the Eurasian Art Ensemble. He was bandleader for Mongolian songstress, Uma Chahar-Tugchi. His sophisticated compositions and arrangements for Uma's charismatic voice are well known to international audiences.
Zollitsch's experiments with vocals range from the Bavarian yodeling of his cultural heritage to the throat singing he has mastered following many trips through Mongolia and Tibet. In the summer of 1999, Robert was the recipient of the German Folk Forderpreis award for the best new Folk artist. The three pieces he contributed to the 1999 German ProFolk Forderpreis sampler CD showcase the diversity of influences that Robert infuses into his compositions.
Ever the ethnomusicologist, Zollitsch produced a landmark CD of Tibetan folk music field recordings in 1999. He continues to seek out new and innovative projects, and looks at each as an opportunity to expand on his own musical creativity as well.
Zollitsch's first solo CD, Zwiefach (Oriente RIEN CD 31), is a musical tour of his influences and travels. The compositions paint a variety of moods, ranging from the melancholic instrumental works of Traurige Gschicht (Sad Story) to the wild, Jodler Nr. 7 (a musical collage of Bavarian yodeling, and Asian throat singing). Zollitsch has used his worldly experiences as paint, the zither and his voice as a palette, and each composition as a canvas, making Zwiefach a musical museum of his creativity.
Since 2003 Robert Zollitsch has lived in Beijing, China.
Partial Discography:
Zwiefach ‎(Oriente Musik, 2000)
Zanskar (Klangräume, 2002)
Jing Ye Si (2006)
Ye Xue (a.k.a. Night Snows, 2010)