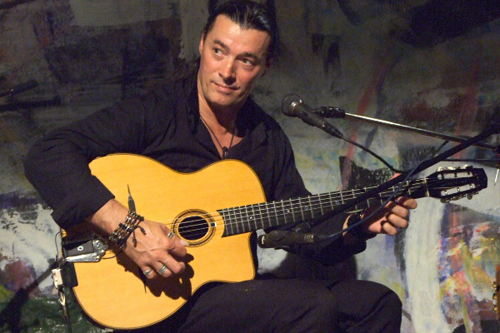 Lulo Reinhardt is a gifted guitarist who was taught by his father since the age of five. At twelve, he was already playing with the Mike Reinhardt Sextet, a formation entirely dedicated to the gypsy swing of Django Reinhardt. In 1991, leaving the sextet to explore new musical experiences he founded I Gitanos with his father Bawo and cousin Dege. The first result of their new gypsy goes Latin was the release of I suni CD in 1994. After that, successful tours throughout Europe and release of next CD, AB I Reisa, in 1998 followed.
In the meantime, Lulo Reinhardt has worked on various projects and has established himself an outstanding reputation as a composer and guitarist. He has played in major events and collaborated with Brazilian guitarist Zezo Ribeiro .
Along the way, he has gathered the best musicians around him to create his personal project. Lulo Reinhardt Project is the accomplishment of a maturing style and artistic creation, which you cannot classify. Swinging from tune to tune, Lulo Reinhardt brings into his music his gypsy roots as well as flamenco or Latin rhythms from Cuba to Brazil.
After the success of his CD Project No 1 (2002), Lulo Reinhardt released the awaited Project No 2 in July 2005.
"Lulo Reinhardt is a spontaneous and spirited musician who is led by the guitar into musical voyages of discovery. His curiosity has taken him to southern Spain in search of flamenco roots, and to South America, exploring various musical styles of Latin Jazz," said Manuel Dominguez, Nubenegra.
Discography:
I suni (1994)
Ab I Reisa ‎(Nubenegra, 1998)
Project No. 1 (2002)
Project No. 2 (2005)
Lulo Reinhardt & Uli Krämer (2006)
Live in Melbourne (2008)
Lulo Reinhardt & Gerd Stein (2009)
Katoomba Birds (2011)
Bawo (2013)
Lulo Reinhardt & Daniel Stelter: Live in der Stadtkirche (2016)