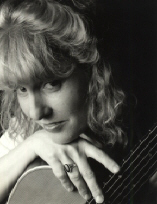 Kerstin Blodig was born in Berlin and has Norwegian roots. She is a leading vocalist and guitarist in the German acoustic scene. Her band Touchwood, with Irish singer Cristina Crawley, has an album distributed in Ireland.
Kerstin studied musicology and Scandinavian languages and cultures in Berlin and in Bergen (Norway). She is involved in a wide variety of different projects, ranging from studio work, German folk-pop and theater music productions to the Celtic groups Norland Wind and Talking Water. She made a world music album, Valivann (with Mick Franke), combining her own Scandinavian/Celtic influenced compositions with traditional lyrics and modem grooves.
In her solo performances, Kerstin presents her arrangements of traditional Norwegian and Celtic songs as well as her own material.
In 2011 she released Trolldans, the debut album by Huldrelokkk, an all-female trio featuring acoustic folk music from Norway, Sweden and Denmark as well as their own material. The band includes Kerstin Blodig on vocals, guitar, bodhrán; Mia Gunberg Ådin (Sweden) on vocals, fiddle, nykkelharpa; and Liv Vester Larsen (Denmark) on vocals, fiddle, percussion.
Discography:
Atlantic Driftood – Harp Music & Song From The Celtic Northwest, with Norland Wind ‎(Slow Motion Records, 2000)
December Journey, with Norland Wind ‎(Alula Records, 2002)
Valivann (Alula Records, 2002)
Kelpie (Alula Records, 2002)
From Shore To Shore, with Norland Wind ‎(Laika Records, 2004)
Trollsang
Nordisk Sjel
Var det du – var det deg? (2007)
Kelpie: Live! (2010)
Trolldans, with Huldrelokkk (Westpark Music, 2011)
Desember måne – December Moon (2012)
Storm in a Teacup (Laika, 2013)
https://www.amazon.com/gp/product/B00P08LJZW?ie=UTF8&tag=musidelmund-20&camp=1789&linkCode=xm2&creativeASIN=B00P08LJZW, with Huldrelokkk (Westpark Music, 2013)
Out of the Woods (Stockfisch, 2015)