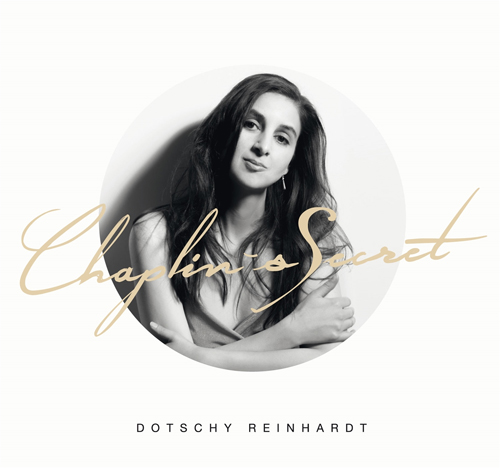 Dotschy Reinhardt – Chaplin's Secret (Galileo Music GMC079, 2018)
Chaplin's Secret is the new album by German jazz singer and book author Dotschy Reinhardt. As her last name indicates, Dotschy is part of the same extended Reinhardt family that also included legendary Gypsy jazz guitarist Django Reinhardt.
Dotschy Reinhardt is a Sinti, a group of formerly nomadic Central European people also known as gypsies. Although she is a jazz singer who sings primarily in English, she celebrates her heritage with a song in Romani, the language of many of the Sinti and Roma. She also sings in Portuguese.
Chaplin's Secret includes swinging gypsy jazz, American-style jazz, and bossa nova accompanied by a fabulous band of extraordinary, versatile instrumentalists.
The title of the album makes reference to famed actor and comedian Charlie Chaplin. In 1991 Charlie Chaplin's daughter, Victoria found a letter that her father had kept in his bedside drawer. The author of the letter, Jack Hill, informed the actor about his genuine birthplace, which was not London, as Chaplin stated in his autobiography, but Black Patch in Smethwick. At the time of Chaplin's birth, Black Patch was a large tree-lined meadow on which Gypsy (Roma) people and entertainers camped with their caravans. It is said that he was born in 1889 as the son of an artist who had toured through England with her father's circus, finally ending up in London.
The lineup on Chaplin's Secret includes Roberto Badoglio on E-Bass; Max Hartmann on double bass; Alexey Krupksky on guitar; Dotschy Reinhardt on vocals; Christian von der Goltz on piano; Alexey Wagner on guitar; and Daniel Weltinger on violin. Guest musician: Nir Sabag.
Dotschy Reinhardt's discography includes Sprinkled Eyes (2006), Suni (2008) and Pani Sindhu (2012).