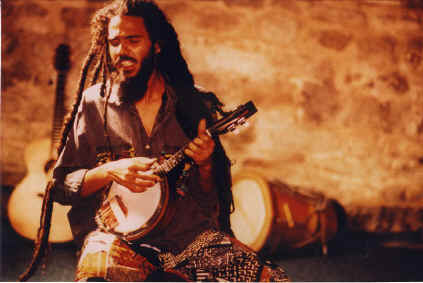 Kali (Jean-Marc Mournerville) lives in the hills of Martinique and espouses a philosophy that parallels Rastafarianism. He is one of the most popular roots artists from the French Antilles, sharing musical idioms with greats like Jean Claude Naimro (Kassav) and has been credited to influencing Dedé Saint Prix as well as innovative newcomers like Chris Combette. His musical career has been dedicated to the revival of Antillean music and exploring the roots of Zouk.
Circa 1980, Kassav introduced a fresh new Zouk sound via Paris by replacing the down trodden cadence with the rock influence of guitarist and rounder Jacob Desvarieux still keeping true to the gwo ka based rhythm. At that time much of the local pop music of Martinique and Guadeloupe had been greatly influenced by electronics, focusing on keeping up with dance floor beats all the while allowing Haitian compas and cadence beats to dominate the more traditional aspect of the popular music scene. The success of Zouk and of African music in general in the 70's and 80's rekindled an interest in the African heritage that contributed to the "Africanized French music" from Martinique. This revival helped Kali to bring his roots-based music closer to center stage helping to life Zouk into the international circuit.
Coupled with his solo career, Kali was one of the driving forces that inspired the band Pakatak that united a number of important musicians melting into the zouk kettle a heavy modern jazz influence. "Chouval Bwz 87" was an album that combined Latin Jazz and traditional percussionmembers included pianist Vasco and singers Timothy Herelle and Max Ramsay, along with Kali on his "magic banjo." The success and vision of bands like Kassav and Pakatak helped to re-stimulate the local traditional music, thus igniting a spark that would later become a fire.
Kali's discography mixes traditional chouval bwa and gwo ka rhythms with other Caribbean styles like biguine and reggae, as well as American funk and jazz. All these styles can be heard throughout "Francofaune" complimented with the trade mark sound of Kali's banjo plunking out strong melody lines with style and finesse, never letting one influence wear out the other. He has grouped a wide range of dance-oriented styles to modernize traditional music creating a complex quality in his arrangements. His ability has been recognized by a wide range of international talent and is supported by performances with Manu Dibango, recordings with Rita Marley, and repeated invitations to perform at Peter Gabriel's WOMAD Festival.
Over the years his lyrical content has always defended moral values consistently dealing with issues such as slavery, economic oppression, and racism. Still keeping true to the carnival feel of the traditional music, he never overlooks the predominant issues of social importance in Martinique and Guadeloupe.
Discography:
Racines I (Hibiscus Records, 1989)
Racines II (Hibiscus Records, 1990)
Kali Live Au New Morning (Epic, 1991)
Roots (Hibiscus Records, 1992)
Ile a Vendre (1993)
Lésé La Tè Tounen (Déclic, 1993)
Débranché ‎(Déclic, 1995)
Racines Noël III (1996)
Kali au New Morning (1998)
Franc-O-faune (Tinder Records, 1999)
Racines IV (Hibiscus Records, 2000)
Bèlè Boum (Bap, 2002)
Racines Caraibes Vol 5 ‎(Jean-Marc Monnerville, 2007)
Weapons of Mass Destruction (2007)
Le Trio (2010)