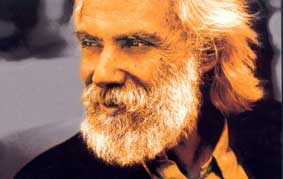 Georges Moustaki was born Youssef Mustacchi in 1934, in Alexandria, Egypt. His parents, of Greek and Italian origin, spoke five or six languages and ran a bookstore that stocked literature from around the world.
After obtaining his baccalaureate (high school diploma) at the age of 17, Youssef headed for Paris, where he worked as a journalist.
He began to write songs, and played the piano and guitar in the College Inn in Montparnasse. He also met the gypsy musician Henri Crolla, a cousin of Django Reinhardt. Crolla introduced him to the legendary performer, Edith Piaf, and in 1958, he became her guitarist and lover. With Marguerite Monnet, who was involved with many of Piaf's songs, he wrote "Milord", which became Piaf's last big hit before she died three years later. Her record spent 15 weeks in the UK chart in 1960, easily beating a version by Vaughan, Frankie, which had an English lyric by Decca recording manager Bunny Lewis.
Moustaki was driving the car late in 1959 when Piaf had her third serious car accident. He escaped unscathed, and accompanied the singer on her ninth tour of the USA, where their relationship was terminated following her collapse onstage at the Waldorf Astoria, and subsequent four-hour operation.
In the 1960s, long haired, with a grey beard, Moustaki toured the music festivals, writing and performing his own songs. These included the dramatic "Le Gitan Et La Fille", "Un Etranger", "Les Orgues De Barbarie", "Les Gestes", which was memorably sung by Serge Reggiani and "Le Meteque" (the outcast), perhaps the song most identified with Moustaki, which ran: "Look at me, a bloody foreigner/A wandering Jew, a Greek peasant/Hair all over the place, eyes washed out…"
In the 1970s he visited Brazil and met some of the biggest names in Brazilian music, including Elis Regina, Chico Buraque, Gilberto Gil and Jorge Ben. After that, some of his recordings, such as Declaration, showed a clear Brazilian influence. During that decade Moustaki worked with Jacques Potrenaud on the film of Albert Cosseri's book, Mendiants Et Orgueilleux, and played the central character, Hadjis. He also composed the music for movies such as The Man With Connections, Solo, The Five Leaf Clover and At The Brink Of The Bench.
His 2005 album, Vagabond, was released in September 2005 and it was mostly recorded in Brazil. In Rio de Janeiro he worked Paula Morelenbaum, recording several tributes to the late Brazilian Tom Jobim.
Georges Moustaki died on May 23, 2013 in Nice, France.
Discography:
Les orteils au soleil (1961)
Le Métèque (1969)
Il y avait un jardin (Polydor, 1971)
Danse (Polydor, 1972)
Déclaration (Polydor, 1973)
Les amis de Georges (Polydor, 1974)
Humblement il est venu (Polydor, 1975)
Prélude (Polydor, 1976)
Espérance, Nos enfants (Polydor, 1977)
Si je pouvais t'aider (Polydor, 1979)
C'est là (Polydor, 1981)
Moustaki et Flairck (Polydor, 1982)
Pornographie (Polydor, 1984)
Joujou (1986)
Méditerranéen (1992)
Tout reste à dire (1996)
Odéon (2003)
Vagabond (Virgin, 2005)
Solitaire (EMI, 2008)