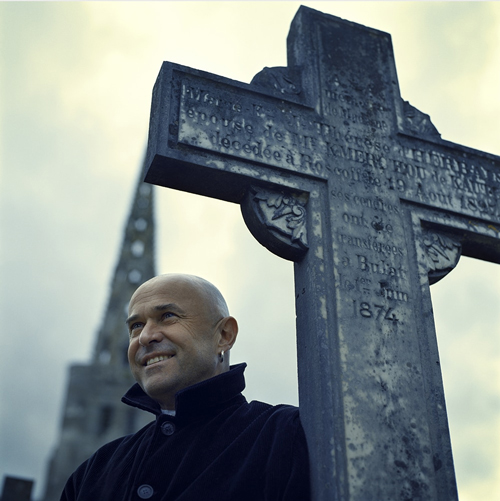 Yann-Fañch Kemener, an influential Breton folk music singer died on March 16, 2019. He was involved in the revival of a Breton style called Kan ha diskan.
Yann-Fañch Kemener was born April 7, 1957 in Sainte-Tréphine (Côtes-d'Armor), in the heart of Brittany's Fañch region (France). He grew up in a family of singers and dancers.
Breton was his mother tongue and the transmission was done naturally. At four, he participated in his first fest-noz (Breton night festival) and his first performance on stage was at 15, encouraged by Albert Boloré.
Influenced by the great voices of elders like Mrs. Bertrand, Yann-Fañch performed gwerz (Breton epic folk songs) and other styles at fest-noz events, together with artists such as Marcel Guilloux, Erik Marchand, and Ifig Troadec.
He recorded Deep Songs of Brittany Vol. 1, including the Skolvan Ballade, Gousperrou ar ranned and La Grande Passion. In 1982, the Charles-Cros academy gave him the Grand Prix Heritage for the three album series Deep Songs of Brittany.
In 1988, he founded the influential group Barzaz with Gilles Le Bigot (guitars), Jean-Michel Veillon (flutes), Alain Genty (bass) and David Hopkins (percussion). It became one of the legendary bands of Breton music.
In 1991, he recorded the album Kerzh 'Ba' n Dañs' with the group Skolvan. Later, he met Didier Squiban with whom he recorded three albums, creating a new genre called "gwerz de chambre" (chamber gwerz).
In the early 2000s, Yann-Fañch started a duet with cellist Aldo Ripoche.
In 2010, he was awarded the Knight Medal of the Order of Arts and Letters in 2015.
In 2016, he put together another band, along with Erwann Tobie and Heikki Bourgault under the name Yann-Fañch Kemener Trio. The intention was to entertain the fest-noz.