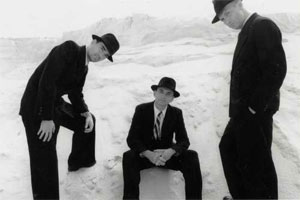 The three principle members of Gotan Project – Parisian Philippe Cohen Solal, Swiss-born Christophe Mueller and Argentine musician Eduardo Makaroff – came together in the late 1990s through a mutual passion for the combination of sound with image, but were equally driven by the desire to successfully mix electronic and acoustic music.
They then built on a foundation of house and dub production by adding some of the finest Argentine tango musicians. The result was a blend of Parisian production with Buenos Aires tradition.
Their debut album was La Revancha Del Tango. In early 2004, Philippe Cohen Solal compiled a mix album of new tracks and remixes on behalf of the band, Inspiracion Espiracion (XL Recordings). Philippe Cohen Solal explained some of the factors that led them to make this album, which was not exactly a new GoTan Project record, but a collection of new tracks, plus GoTan Project remixing tracks and people mixing GoTan Project tracks:
"We set ourselves the challenge of bringing together past influences and present aspirations for just one hour – the Ancients and the Moderns. Indeed, what difference is there between a 40s groove, a 70s groove, and a groove for tomorrow? There is a difference in the sound quality of the recordings, naturally, but that aside, Anibal Troilo grooves, Astor Piazzolla grooves, and Pepe Bradock grooves. One is an amazing arranger, one a songwriting genius, and the other an inspired producer. Calexico, Domingo Cura, Peter Kruder, Anibal Troilo, Anti Pop Consortium, GoTan Project, Pepe Bradock, Al Shid and the voices of those Argentinean women, legendary figures, stars or unknowns, with names like Evita, Cecilia and Rita."
GoTan Project also had a visual component. The second disc that accompanied the album included a video by their longtime visual collaborator, Prisca Lobjoy. She is a video artist and was part of the GoTan Project world since the very beginning, from the design of their first single sleeves, to the album cover and, above all, the creation of the videos, which were projected during the live shows.
The group's third recording, Lunatico, had a decidedly stronger emphasis on the more organic roots of tango. "We really wanted to explore both tango and folkloric music from Argentina a lot further than we had before," said Philippe. "That's why many of the tracks are classically tango-oriented, very traditional patterns that people like (Anibal) Troilo would use."
Discography:
La Revancha del Tango (XL Recordings, 2001)
Lunático (XL Recordings, 2006)
Tango 3.0 (XL Recordings, 2010)