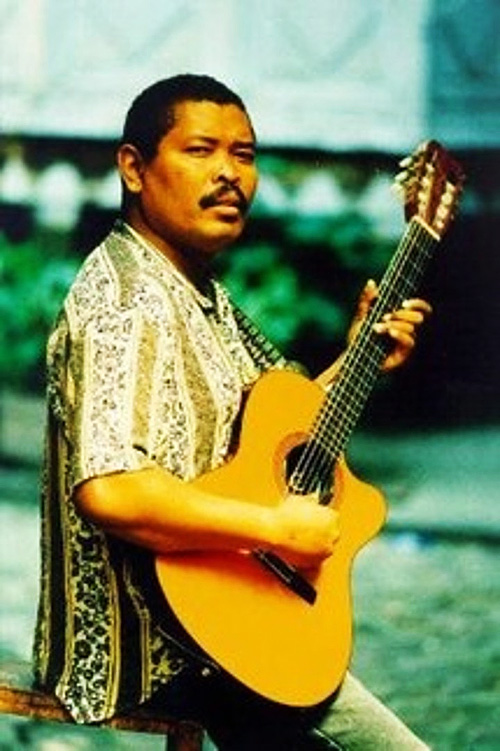 Ernest Randrianasolo, better known as D'Gary, was born October 22, 1961 in Antananarivo, Madagascar. He's Madagascar's best known guitarist.
D'Gary, is a self-taught musician. This son of a Bara shepherd from the southern part of the island of Madagascar began playing guitar as a young teenager, borrowing the guitar from his brother's band after they were finished performing. He was soon playing not only the sega and blues typical of his hometown of Betroka, but the tsapika from southern Africa as well.
He began performing in the late 1970s, but it wasn't until ten years later that his first recording came out on the Madagascan label Discomad. Along the way he invented numerous open tunings, astounding colleagues including the American guitarist Henry Kaiser, who has this to say about D'Gary: "I truly doubted both my ears and eyes as these tunes were played inches in front of me. If you're a guitarist at home trying to figure out what's going on, all I can say is Good Luck."
D'Gary reached an international audience in the 1990s through a famous collaboration with musician/producers David Lindley and Henry Kaiser. Their album, A World Out Of Time, featured D'Gary's extraordinary, open-tuning playing style developed from traditional instrumental techniques. A series of international recording projects and concerts followed.
D'Gary toured North America with the International Guitar Night ensemble and recorded the International Guitar Night II live album with Brian Gore, Miguel de la Bastide and Clive Carroll.
In 2009 D'Gary toured with Bela Fleck's Africa Project along with Toumani Diabate, Vusi Mahlasela, and Anania Ngoglia.
D'Gary has created numerous tunings for the guitar. The source of his inspiration comes primarily from the music of the Bara peoples, reproducing the sound of the lokanga (traditional violin), the jejy lava (similar to Brazilian berimbau), and mpamalia (valiha, guitar, & vocal together) on his guitar. D'Gary also draws upon music associated with traditional Bara ceremonies, such as the avoria (a ceremony for a Bara funeral).
D'Gary's third recording, Akata Meso, (Label Bleu/Indigo), marked further exploration of saturated guitars inspired by tsapika (people's music, from the ghettos of Tulear), and where vocals are flung in the face of open space, and incredibly refined solos, of bluesy, even flamenco, notes slip in between the arpeggios on D'Gary's guitar.
In 2017, D'Gary was one of the stars that appeared in the debut album by Toko Telo, a trio featuring three of the finest Malagasy artists. The group played genres from southern Madagascar, including tsapiky, jihe, and beko.
Discography
Malagasy Guitar – Music From Madagascar (Shanachie, 1993)
The Long Way Home, with Dama (Shanachie, 1994)
Horombe, with Jihe (Stern's, 1996)
Mbo Loza (Indigo, 1997)
Akata Meso (Indigo, 2002)
Toy Raha Toy (Anio, 2017)