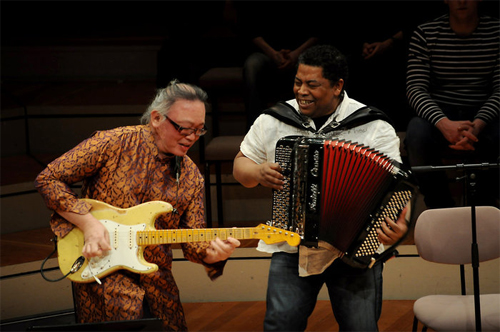 Regis Gizavo was an accordionist from Tulear. He presented himself not only as a defender of the traditions of his region (where the ethnic groups, Vezo, Masikoro and Mahafaly, co-exist), but also of modern, original music, absorbing diverse influences with perfect ease. His experience in Madagascar: immersion from his early childhood in trance music, performance of popular music with various variety groups, and pure research in collaboration with the guitarist D'Gary made him an accomplished musician. In 1990, was awarded Radio France International's "Discovery Prize".
Tulear, 1971. In a hut, in the Mahavatse neighborhood, a group of kids armed with makeshift instruments, performed songs they had heard on the radio: French songs, American tunes, South African and Mozambican music, spread by the radio waves that reached the extreme southwest of Madagascar. In a neighboring hut, there was a woman in a trance. Surrounded by relatives, she was prey to the caprices of the spirits which shook and transformed her. Suddenly, she perceived the sound of an accordion behind the wall, and was taken over by a frenzy of dancing (the accordion is an instrument of trance in this region, accordionists are part of every ritual, of every celebration). Quickly, they sent for the providential musician. It turned out to be a twelve-year-old child, Regis Gizavo, who fled at the sight of the possessed woman. He was caught and brought back by force. He was forced to play with his eyes closed, terrified, but would succeed little by little in calming the spirits and freeing the woman. The ambivalence of Regis Gizavo's talent is entirely shown in this anecdote.
The son of a teacher with modern ideas who played the accordionist musette and taught it to five of his thirteen children, Regis pursued management studies at the university, and played all kinds of music on his island and in Europe, where he lived since 1990. But in his ethnic group Vezo (fishermen of the southwest coast of Madagascar), and all those which inhabit the Tulear region (Masikoro, Mahafaly…), the accordion has a religious connotation far too strong for Regis not to have somehow been permeated by it. Every summer, he returned to his mother's village, Tampolo, on the other side of the Mangoky river where he listened to traditional accordionists; and even if he didn't learn the trance music, he grew up in their vibrations; their driving grooves emanated naturally forth from his fingers.
His first band was the Filibustiers, a group that entertained at local events. When he left the group to return to school, he was barely fifteen. After that he was hired by a more professional group, the Sailors, who accompanied the singer Angeline in concert and on the radio. The accordion belonged to the boss, as is often the case in Madagascar; Regis didn't get his own instrument until 1990. At age twenty-five, after he graduated, he undertook a journey across the island which gave him the opportunity to play with numerous traditional! and modern musicians. Beginning in 1989, he started to record his own compositions with Landy, a singer from Tulear living in Tananarivo.
In 1990, Regis was the winner of the "Decouvertes" (Discoveries) musical competition organized by Radio France Internationale. He left for Europe where the music scene greeted him with a warm welcome and he was encouraged to pursue an international career. The drummer Francis Lassus invited him to join Boh? Combo, the group he was putting together. Regis accompanied Graeme Allwright, played on the albums of Zao, Higelin, les Tetes Brulees, etc.. and occasionally joined up with his old friend D'Gar. In 1993, he became the regular accordionist for I Muvrini, replacing jazz musician Daniel Mille. The 330-odd concerts and sessions given in the span of two years at their side didn't stop him from working on his first solo album, which he recorded around Christmas 1995.
Regis Gizavo died on July 16, 2017
Discography
Mikea (Shanachie, 1996)
Samy Olombelo (2000)
Stories (Marabi, 2006)
Madagascar All Stars (2009)
Ilakake (Cinq Planètes, 2012)
[Biography edited from an original by Corinne Serres].