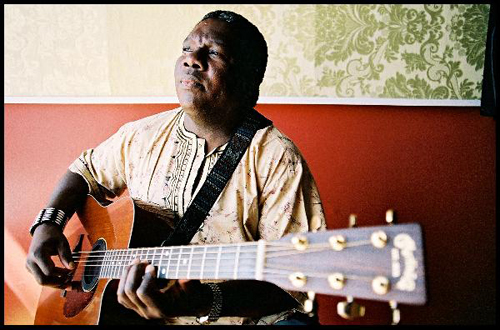 Vusi Sidney Mahlasela Ka Zwane was born in 1965 in Lady Selbourne, near Pretoria, and grew up in Mamelodi township, where he still resides. Vusi never knew his father, lost his mother at a young age, and was raised by his maternal grandmother. Growing up in Mamelodi, a cradle of creativity that has produced a number of noted poets, writers, artists & musicians, the young Vusi began to teach himself to play on a homemade guitar, a remarkable instrument made of tin cans and fishing line.
Vusi can't remember a time when he wasn't singing. "I'm sure I learned to sing before I could talk," and was a seasoned performer by the age of seventeen. He soon discovered that he had a flair for composition and began to write his own music and lyrics.
From the outset, Vusi's songs addressed themes of political and social significance, and so he found himself in demand at political rallies and cultural events. His message of peace also drew him into close contact with poetry groups, especially the Ancestors of Africa, a rousing group of poets, musicians and actors, formed in 1981. He recalls, "We were picked up and harassed in all types of situations, going to church every Sunday and being forced to sign a piece of paper at the police station first. If I was going out of town for a wedding, it had to be reported to the police first. They kept on harassing me with the things I was doing. But I stuck to it."
After joining the Congress of South African Writers in 1988, Vusi developed a new level of confidence as a poet and a writer. He struck up a creative friendship with South African poet Lesego Rampolokeng at the same time he was falling under the spell of artists like Miriam Makeba and Phillip Tabane. He was also exposed to the work of Victor Jara, whom Vusi acknowledges as a central influence on his own music and lyrics.
His first record, When You Come Back was recorded and released by Shifty/BMG in 1991 and produced by Lloyd Ross. The album is widely acknowledged as a South African classic. Then, in 1994, Vusi was asked to perform arguably the most important gig of his life: the inauguration of South Africa's new president, Nelson Mandela. That same year, with South Africa undergoing massive transition, Vusi released his second album, Wisdom of Forgiveness. The album saw Vusi receive a finalist nomination for Best Male Vocalist at the FNB SAMA (South African Music Award).
Vusi released several albums since 'Wisdom', including the Gold-certified and double SAMA winning Silang Mabele (1997), Miyela Afrika in 2000, and Jungle Of Questions (2002), which Vusi produced and recorded alongside his Proud People's Band backing outfit. Vusi is featured in Amandla! A Revolution in Four-Part Harmony, the celebrated film about the importance of music and song in South Africa?s anti-apartheid struggle.
An accomplished guitarist, percussionist, composer, arranger, band leader and performer, Vusi now enjoys an ever-growing following that spans worldwide. Among his most ardent supporters is Dave Matthews, who is a native of South Africa and has long aimed to make Vusi's music known in the U.S. In fact, when Matthews founded ATO Records several years ago, one of his foremost goals was to sign Vusi to the label. In 2000, he invited Vusi to contribute guest vocals on the title track of the Dave Matthews Band?s multi-platinum album Everyday.
In 2002, ATO was approached by the producers of Amandla! and enthusiastically secured rights to release the soundtrack. Matthews further realized his goal, signing Vusi to ATO.
Discography:
When You Come Back (BMG, 1993)
Wisdom Of Forgiveness (BMG, 1994)
Silang Mabele (BMG Records Africa, 1997)
Jungle Of Questions (BMG Africa, 2002
The Voice (ATO Records, 2003)
Guiding Star (ATO Records, 2006)
The South African Meeting Of Viramundo (Dreampixies, 2010)
Say Africa (ATO Records, 2011)
Sing To The People (ATO Records, 2013)