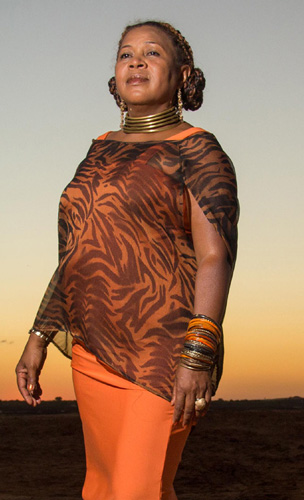 Percussionist and vocalist Monika Njava grew up on the island of Madagascar in the southwest port of Morondava.
Celebrated across Madagascar as a national diva, Monika Njava was a lead singer in the award-winning group Njava, recording two critically acclaimed albums for EMI's Hemispheres label.
She has recorded with best-selling act Deep Forest and continues to tour with the band. In 2012 she released a solo world pop album, Haizina, with musicians from three continents.
Always exploring new musical territory, in 2014 she recorded Island Jazz with bass virtuoso Linley Marthe. Island Jazz mixes traditional Malagasy music and contemporary jazz.
Monika sings in several Malagasy dialects. She draws on folktales and everyday village life for her lyrics. She also addresses contemporary themes affecting her country, such as corruption, environmental devastation, and the empowerment of women.
She is a member of the highly-respected supergroup Toko Telo. Her colleagues are two of Madagascar's finest musicians: D'Gary and Régis Gizavo.
Discography:
From South Madagascar, with Njava (Sushi Records, 1997)
Vetse , with Njava (EMI Hemisphere, 1999)
Source, with Njava (EMI Hemisphere, 2001)
Haizina ( Anio Records, 2012)
Island Jazz ( Anio Records, 2014)
Toy Raha Toy, with Toko Telo (Anio Records, 2017)
Diavola, with Toko Telo (Anio Records, 2018)