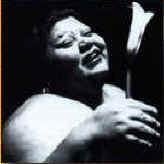 Vera Bílá is a Czech Roma, although her family originates from the Gypsy shantytowns of Slovakia. She smokes heavily, eats with gusto, and loves to eat donuts. Her hard life is evident in her voice but she's succeeded in becoming the Czech Republic's best-known and most successful Gypsy performer.
For many years, Vera Bílá performed with Kale, an all male quartet. The band used to be called Vera Bílá & Kale (Vera White and The Blacks, as it translates). She comes from a small town in Bohemia (Czech Republic), Rokycany, about 70 kilometers west of Prague, in the heart of Eastern Europe. As with most Roma (Gypsy) groups, all of the band members belonged to the same family.
Vera Bílá has been called the Ella Fitzgerald of Gypsy music. She has been singing since as far back as her memory reaches. From a tender young age until she was 25, Nera sang with her father who was a violinist and leader of a cymbalom band. In the mid-1980s the top Czech folk band, Nerez, saw Vera performing with Kale at a folk festival and were so impressed that they began inviting them to guest at their sold out concerts.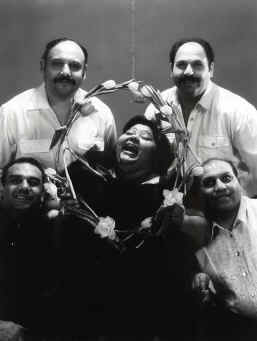 In 2000 she appeared at London's Barbican Centre on her first ever UK visit and sold out the 2000 capacity hall, she then rocked the main stage at WOMAD the following July. January 2001 saw the BBC-TV screen an hour-long documentary charting her fascinating journey from local folk singer to the stages of some of the world's most famous concert halls.
In the beginning of September 2005, Vera Bílá split up with her band Kale and manager and producer Jiri Smetana. She moved from the Czech Republic to Presov, in Slovakia, where her family originally came from. Shortly after her arrival, she started to work with a Roma band called Holubovci.
Discography:
Rom-Pop (Ariola, 1995)
Kale Kaloré (Ariola, 1998)
Rovava (Ariola, 2001)
C'est Comme Ça ‎(Ariola, 2005)
Queen Of Romany