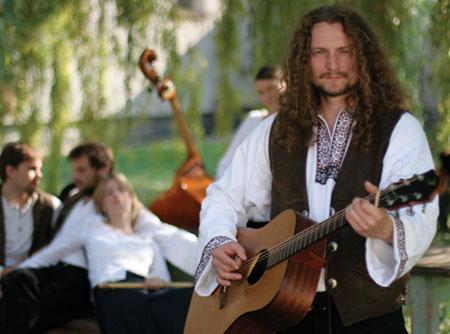 Kocko & Orchestr is peculiar songster, singer, composer and speculator in the area of traditional Moravian and Slavonic artistic creation, history and religion.
He and his group play a combination of Middle-Eastern and European world music. Their music is acoustic: guitars, violin, cimbalom and flutes, as well as percussion and traditional folk instruments. It has expressive strains and rhythmic background with elements of rock and folk music and jazz.
They have appeared at the most important festivals in the Czech republic and at world festivals (EBU – European broadcasting union, Nowa tradycja, Colours of Ostrava, United Islands of Prague, Le village europ?en des nouvelles musiques traditionnelles, Ethnosfera 2002 … etc.).
Discography:
Ondráš, aneb do kamene tesané (2000)
Hodovnice (2001)
Poplór ((Indies Records, 2006)
Koleda (Indies Scope Records, 2009)
Godula (2011)
Velesu (Indies Scope Records, 2016)