Violinist, singer and composer, Iva Bittová recognizes no boundaries in music. She is one of the most significant and original personalities of contemporary Czech music. Her musical projects are events not only in the Czech arts scene, but worldwide.
Foremost of Czech artists she has won international recognition. She has staged successful concerts throughout Europe, the United States and Japan. Her records have aroused a lot of interest internationally.
Iva Bittová was born in 1958 into a musical family and lives in a small village near Brno called Lelekovice. She studied acting at secondary school. From 1975 through 1988 she was involved with the theater group Na provázku. She also performed as a duet with Pavel Fajt (1985 – 1991), as a vocalist with the rock group Dunaj (1985 – 1988), with French musicians guitarist F. Richard and P. Fajt (1989) and in 1991 she was involved with a gathering of selected avant-garde musicians from all over the world (i.e. Fred Frith, Tom Cora, Chris Cutler).
In 1995 Iva Bittová performed several concerts of 44 Duets for two violins by Béla Bartók with violinist Dorothea Kellerová (a member of the Brno State Orchestra). In 1996 she won two prizes in the prestigious competition organized by the Academy of Popular Music. She came first in the category "Singer of the Year" and in the alternative music category.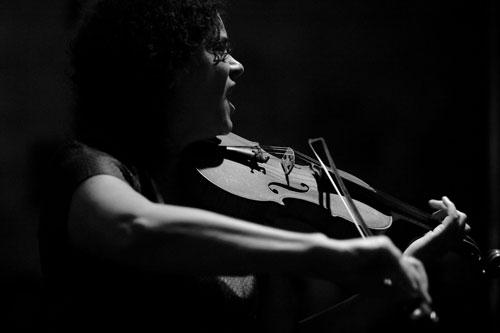 The association of musicians Cikori was set up in 1999 by Iva Bittová and Vladimír Václavek. They are involved in improvisational music for the sequel to the successful recording "White Inferno". The other members of Cikori, František Kucera (trumpet) and Jaromír Honzák (double bass) also took part in this new recording. Miloš Dvorácek has taken up drums and percussion and the high quality soundtrack was provided by the sound engineer Ivo Viktorin. This resulted in the fresh, expressive and original music which combines the alternative elements of jazz and world music.
Most of the lyrics are written by Karel David and Vladimír Václavek and some other writers. Another interesting addition to the band's concerts is the girls' choir Lelky led by Iva Bittová.
In the year 2000 Iva Bittová recorded with the Roma (Gypsy) band Taraf de Haidouks. She also presented a concert of Gregorian chants with Schola Gregoriana Pragensis.The following year Iva Bittová performed with Škampa Quartet for the Prague Spring (music originally composed for Kronos Quartet)
Discography:
Iva Bittová, EP (Panton, 1986)
Balada pro banditu – A Ballad for a Bandit, EP (Panton,1986)
Iva Bittová (Pavian, 1991)
River of Milk (EVA, 1991)
Ne, nehledej – No, Do Not Seek (BMG, 1994)
Kolednice – Carol singer (BMG, 1995)
Divná slecinka – A Strange Young Lady (BMG, 1996)
Iva Bittová (Nonesuch, 1997)
Elida, with Bang on a Can (Cantaloupe, 2005)
Bile Inferno (Indies Scope Records, 2009)
Iva Bittová (ECM, 2013)
Entwine – Proplétám (Pavian Records, 2014)