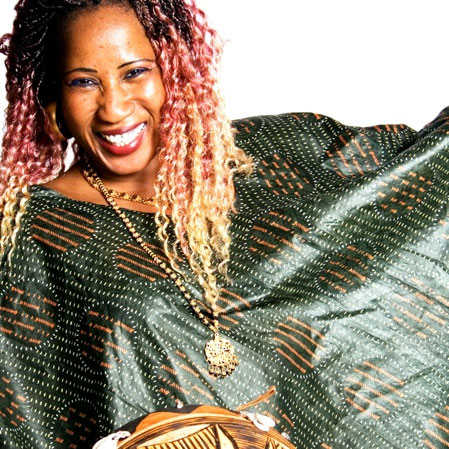 Fatoumata Dembele is a griot, singer, dancer. She was born in 1972 in Bobo-Dioulasso, Burkina Faso. She is the daughter of griot parents and thus inherited the tradition of these musical messengers by following her mother to ceremonies and rituals from the age of seven. Her father built and played the bala (balafon).
At 25 she worked full-time as a griot at ceremonies, rituals and festivities, accompanied by jembe players when she performed in the Diula language, by full orchestras (traditional or electrified) at performances sung in the Manding language.
In 1998 she took part at a music festival in Bobo-Dioulasso with her own group. After her performance she was asked to join the internationally known group Farafina as a singer.
Since 1999 she toured with Farafina all over the world. She contributed compositions of her own, sings solos and dances.
In 2000 her tours with Farafina took her from Switzerland to Portugal, France, Spain, Italy, the Netherlands, Austria and Germany where they also played at the world EXPO 2000 in Hannover. The same year she took part in the recording of Farafina's CD Kanou.
In Burkina Faso she performed with her own group under the name of Tim Tim at a competition by the "Coordination des Associations pour la Lutte contre le Sida" (coordination of associations for the fight against AIDS). Among the 30 groups she won fist prize with her song 'Sida Ka Taa'. She was invited to perform at Burkina's main TV station and gave a concert at a reunion of doctors from her country.
In 2001 and 2002 she toured again with Farafina in order to promote the release of their CD Kanou. They toured in Switzerland, France, Spain, Italy, Germany and played in Israel at the 'Jerusalem Freedom Festival 2002'.
Also in 2002 she took part, with Farafina, in the project Sirafaran ("crossroads") on the occasion of the EXPO 02 at the Neuchatel Expo site in Switzerland. Sirafaran is a collaboration between the group Farafina and Swiss jazz musicians Mathieu Michel (trumpet), Bertrand blessing (drums), Dragos Tara (bass) and Laurent Estoppey (sax).
In 2003 she also performed with Farafina at the film festival "Fespaco" in Wagadugu, capital of Burkina Faso.
In the same year she recorded the song 'Delie' ("acquaintance") as a duet with the famous blind musician olo Dia Kabaco. They also produced a video clip of the song which is still being on TV in Burkina Faso and Mali.
In 2004 she returned, with Farafina, to Switzerland, France, Britain (Africa Oye Festival), Belgium, Italy (Folkest 2004),Germany, Croatia, Slovenia and Tunisia.
She was also invited as the featured solo singer to record three songs on the CD Sira Fila by the group Bekadiya, a project organized by the balafon player Mamadou Diabate who lives in Vienna, Austria. With this group she performed at several concerts in Austria.
In 2005 she went back on tour with Bekadiya. She also worked with a new project together with Achim Tang (bass), Mamadou Diabate (bala) and Lukas Knoefler (drums) and performed with her own small group (Buskers Bern, a.o.).
Having been living in Switzerland since 2003 she all the same never has forgotten that she is first and foremost a traditional griot and she has been continuing to sing at ceremonies on every visit to her native country Burkina Faso (her return often impatiently awaited by her employers).
In 2006 she pursued her work with Bekadiya. She also joined the group Taffetas which consisted of Nana Cissokho (kora, vocals), Marc Lieberskind (guitar) and Christophe Erard (bass, vocals) and has recorded the CD Cam?l?on with them. In addition she gave duo concerts with her regular kora player Nana Cissokho and with her own group in Switzerland. She also produced her first CD under her own name.
Her CD Nananiba came out in early march 2007.