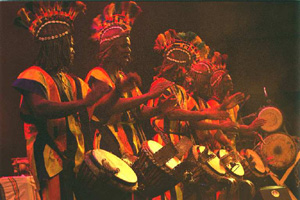 Formed in Nuna, located in northwestern Burkina Faso, Badenya les Freres Coulibaly are part of a family of griots (musician storytellers, also known as jali and jeli in West Africa) and are members of the Bwa ethnic group.
Originally composed by the twins Lassina and Ousseni and known as les Freres Coulibaly, the group grew up to 8 members of the Coulibaly family and are called Badenya les Freres Coulibaly.
Lassina and Ousseni traveled for the first time to Europe in 1989. Invited by the "Atelier of Ethnomusicology" in Geneva to teach African percussion and dance. From there, they traveled to Switzerland, Germany, Netherlands and the UK. The public was instantly conquered by their natural ease, their radiation, which emanated from these young musicians freshly arrived from Burkina Faso. Their togetherness seemed perfect an inalterable, no disagreement seemed possible between them.
After this first tour, they returned to Bobo-Dioulasso and the year after, the twins came back with their elder brother, Souleymane, called Solo, who had initiated them to music.
Invited to the Montreux Jazz Festival they performed under the artistic direction of Quincy Jones for an evening with Miles Davis. In reaction to this success, Claude Nobs and Quincy Jones invited the trio for 2 additional nights and they got to play with Georges Clinton, Georges Benson, Al Jarreau, Toots Thielmans, the rappers Kool Moe Dee, Mel Mellow and many others.
In 1991-1992, the W.H.O. (World Health Organization) asked Lassina & Ousseni, and Solo to compose a song in French, dedicated for the opening ceremony of the "World Day of AIDS". Les Freres Coulibaly played for la Fondation Sacem in Paris for the "Night of percussion" with Michel Portal, Daniel Humair, Mino Cin?lu and David Friedmann. Their concert was welcomed with warmth and admiration and was a remarkable start onto the Parisian scene.
In 1993, Solo, Lassina and Ousseni released their first album Anka-Dia. They flew to Tunisia to teach percussion and the next year, flew to Spain, (Madrid and Barcelona) to be part of an African festival with Salif Keita, Cesaria Evora, Khaled and Johnny Clegg. Then les Freres Coulibaly were invited by Baaba Maal in Senegal for his tenth anniversary in the music world. There they met Peter Gabriel and shared several exceptional performances with Youssou N'Dour.
1997- 1999: On tour and preparing their next album they were invited to perform for a series of concerts Tribute to Rhythm with the great tabla player, Zakir Hussain and the former Kodo drummer, Leonard Eto.
2000-2001: Release of the second album "Seniwe (Solidarity) with the entire family. The promotional tour for the album took the group to America, Israel, Malaysia, Germany and Austria. The following year they flew everywhere in Europe and in June, Carlos Santana invited the band to perform with him at the Letzigrund stadium in Zurich.
In November 2002, Ousseni Coulibaly passed away in Geneva, after a long disease. His great loss severely affected the band, and particularly his twin brother, Lassina. Deeply saddened, they went back to Burkina Faso, bringing with them their deceased brother, to burry him in his home land.
Discography:
Anka-Dia (1993)
Séniwè ‎(Trace, 2000)