Santana – Africa Speaks (Concord Records, 2019)
Two iconic artists, guitarist Carlos Santana and vocalist Santana teamed up to record a superb album titled Africa Speaks .
Carlos Santana brought to the table his wide-ranging experience in mixing Afro-Cuban music with rock, jazz and other global music influences. Afro-Spanish singer Buika is deeply influenced by the African music of her parents, flamenco, jazz, soul and Afropop.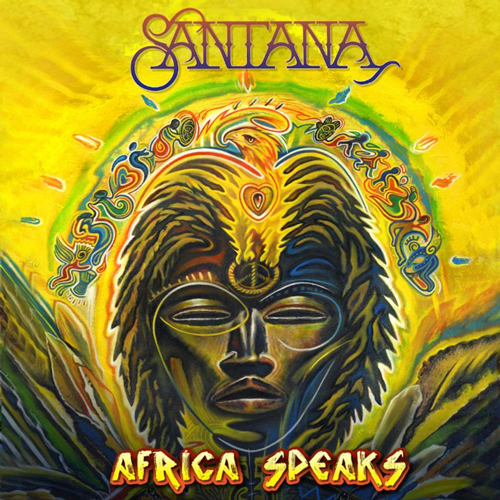 Together, Santana and Buika deliver a remarkable album, where two unique sounds meet and intertwine: Santana's highly recognizable electric guitar and Buika's distinctive voice and singing style.
Santana was a pioneer in world fusion, combining Cuban music and rock in his early albums. Now, rock, African, flamenco and Afro-Latin sounds come together in an explosive mix on Africa Speaks.
"This is music that I hold so dearly, and it's not a stranger to me," says Carlos Santana. "The rhythms, grooves and melodies from Africa have always inspired me. It's in my DNA. If you take your inspiration from many, it's called research. I researched this beautiful music from the African continent. They have a frequency that's all their own. It's funny, because when I play in Africa, people say, 'How do you know our music?' And I say, 'How can I not know what I love?'"
Personnel: Carlos Santana on lead electric and rhythm guitars, backing vocals and percussion; Buika on lead vocals; Laura Mvula on backing vocals; Cindy Blackman Santana, on drums; Salvador Santana on keyboards; Tommy Anthony on rhythm guitar; Benny Rietveld on bass; Karl Perazzo on timbales, congas and percussion; David K. Mathews on Hammond B3 organ and keyboards; Andy Vargas on backing vocals; and Ray Greene on backing vocals.
Africa Speaks brings out of the best of Santana and Buika: memorable guitars and exceptionally expressive vocals rooted in African traditions. One of Santana's finest albums in many years.
Buy Africa Speaks in the Americas
Buy Africa Speaks in Europe