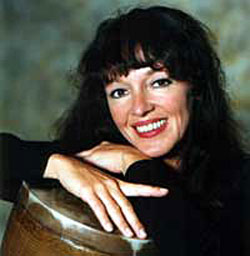 Marika Falk was born in Vienna, in a Hungarian family of musicians. She plays numerous percussion instruments such as frame drums and hand drums,inclufding the tombak, darbuka, riq, daf, daire, bendir, cajon, ghatam, tar, bodhran, and talking drum.
She completed her musical studies in Munich, where she lives. For over two decades she has been involved with the traditional music of Africa and the Middle East and learned percussive techniques from several well-known masters.
She has collaborated with various project relating to Early Music, jazz, theater, world music with groups like Vox, Sarband and Nunu.
Discography:
Tigrib (Konnex Records KCD 5084, 1998)
Mariano (Konnex Records KCD 5087, 1998)
Drumming Breath (NO-CD Rekords CDNO 24, 2000)
Ahoi (Konnex Records KCD 5112, 2003)
Breathing Colour (2008)