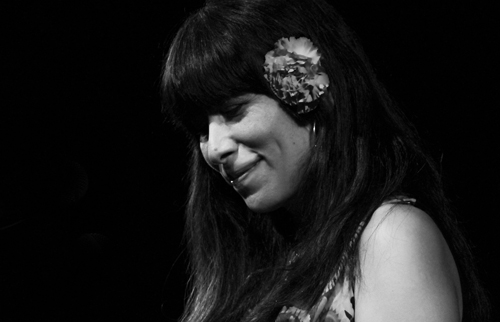 Miryam Quiñones is a committed transmitter of contemporary Peruvian songwriting and is today one of the most recognized new voices in Peruvian music. She has traveled to 21 countries with her songs.
Her album Con el Alma en Vilo (Argentina, 2013) features special guests Silvio Rodríguez, Vicente Feliú, Augusto Blanca, Teresa Parodi, Alberto Rojo and Jorge Fandermole.
In 2015 she received the Ibermúsicas Award, and in 2016 the Argentine Cultural Development Fund Award.
The album Las flores buenas de Javier, a duo with Vicente Feliú is a tribute to Peruvian poet Javier Heraud.
In 2017, Miryam received a distinction for her 'Excellent Cultural Work', awarded by the Congress of the Republic of Peru.
Miryam currently lives in Madrid, Spain.
Discography:
Miryam Quiñones canta a Silvio Rodríguez (2001)
Miryam Quiñones en vivo I (2002)
Miryam Quiñones en vivo II (2004)
Eternamente Chabuca (2012)
Con el Alma en Vilo (2013)
De Amor y Trova… (2013)
Las flores buenas de Javier, with Vicente Feliú (2015)