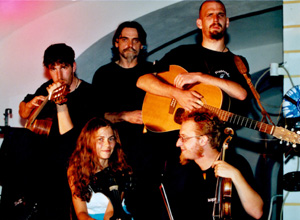 Ballycotton started at the beginning of 1996 with a temporary band called Glakijamus. Three members this stayed together: Matthias Jakisic (fiddle), Alexander König (bouzouki, mandolin, banjo, guitar) and Harald G. Binder (percussion). They played Irish, Spanish Russian Folk standards and gave themselves name Ballycotton after small fishing village in South Ireland. A few months later Alex, headed to Liverpool (England) to join the Paul McCartney School. A substitute had be found. Gernot Strauß (guitar) was chosen.
He fit so well into the band that after Alex returned, Gernot also stayed. The quartet chose to create original music: Irish Folk with a lot of its own modern folk influences. In November of 1996 Ballycotton started to record its first CD Joanna's Wedding, which was released in February of 1997. That same year, the first international tour led Ballycotton to Germany and Holland, playing mainly as street musicians or in pubs for food an accommodation.
As a Christmas present, Ballycotton's label released the Maxi-CD My Little Drummer Boy featuring the original song by David Bowie and Bing Crosby and a song from the Ballycotton album Fairytale.
In 2005, the band released the concept album "Eyla."
Discography:
Joanna's Wedding (1997)
Fairytale (1997)
A la cut (2001)
Mondland (2003)
Eyla (2005)
Jenseits vom Ende der Zeit (2009)