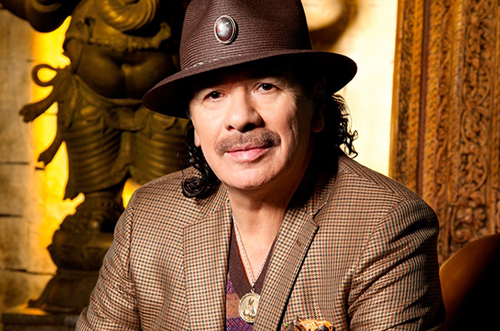 Carlos Santana was born on July 20, 1947 in Autlán de Navarro, Jalisco, Mexico. His father, José, an accomplished mariachi violinist, introduced Carlos to 'traditional music' at the age of five. The family moved to the border boom town of Tijuana in 1955, where Carlos seriously took up guitar, studying and emulating the sounds of B.B. King, John Lee Hooker, T. Bone Walker and other blues greats he heard on the radio.
As much as he was inspired by the early training he received from his father in traditional musical form and theory, Carlos soon realized his dream was to break free and play rock and roll. He began performing with local bands like The T.J.s, adding his own personal flair to the popular songs of the 1950s.
As he continued playing with different bands up and down the bustling 'Tijuana Strip,' Carlos Santana began to hone his considerable skills and invent his inimitable sound. In 1961, he moved to San Francisco, in the United States, joining his family, who had relocated there the previous year.
Destiny had most certainly brought Carlos to the right place at the right time, planting him right in the middle of the burgeoning and hugely influential San Francisco Bay Area music scene. The Bay Area in the 1960s was a melting pot of cultural, political and artistic change. In this climate, Carlos continued to evolve his unique, genre-bending style, and in 1966, he took his music to the people with the debut performance of the Santana Blues Band.
For the next two years, the group was swept up in a whirlwind of acclaim and popularity that carried them from Bill Graham's historic Fillmore West venue to the main stage at the Woodstock 'Peace, Love, Music' Festival. There, on August 16, 1969, the Santana band's Latin-flavored rock was delivered to the masses.
The world embraced Carlos Santana with passion, captivated by music that was always changing, heralded by a guitar prowess that today remains among the most distinctive. Each new release – including several platinum and gold albums – emerged as a reflection of Carlos's personal growth and artistic evolution.
Fans also reveled in his humanitarian messages and spiritual affirmations – subtle urgings towards peace, joy, acceptance, compassion and understanding – that have been consistently communicated in a gentle, heartfelt manner at live performances around the globe.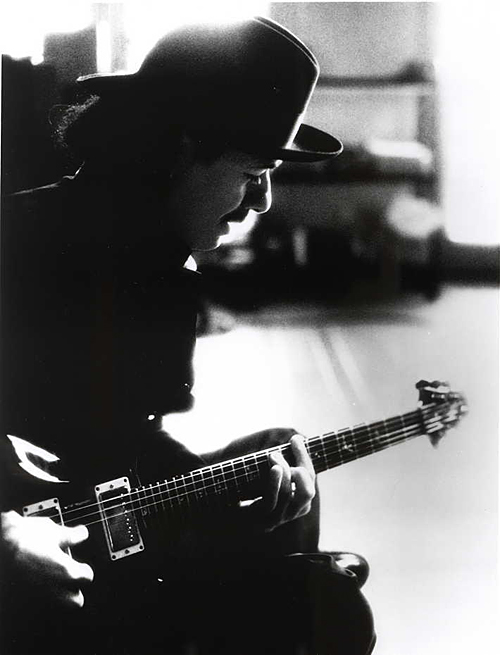 The Santana Band achieved double-platinum status their first time out with the 1969 Columbia debut album, Santana, featuring the hit single 'Evil Ways,' and quadruple-platinum with Abraxas, the classic 1970 follow-up which boasted among its tracks 'Black Magic Woman' and the incomparable Tito Puente composition "Oye Como Va."
A period of experimentation with fusion jazz and non-Latin world sounds began with the supern Middle Eastern flavored fusion album Caravensarai in 1972. Santana also collaborated with John McLaughlin, leader of the Mahavishnu Orchestra, one of the top jazz-rock fusion bands at the time.
A musical family reunion took place in 1994 with the album Brothers, which featured collaborations with Carlos's sibling Jorge and nephew Carlos Hernández.
In 1995, the comprehensive Legacy boxed-set retrospective came out. This was followed in 1997 by a 2-CD collection, Live At The Fillmore, featuring performances from Santana's historic 1968 shows.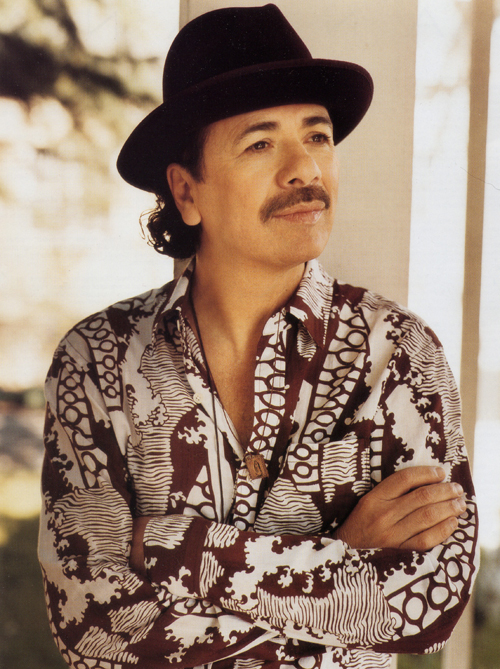 Significant filmed repertoire include the 1988 video retrospective Viva Santana, the 1993 South American concert video Sacred Fire, and 1997's CD-ROM A History of Santana: The River Of Color And Sound. Fox Television aired the gala special A Supernatural Evening with Santana, a celebration of the record-setting album featuring performances with Rob Thomas, Lauryn Hill, Dave Matthews and Sara McLachlan, among others. This passion also paved the way for ventures into the new musical and geographic territories, including the scoring of the feature film La Bamba, participating in 1987's Rock 'n Roll Summit, the first-ever joint US-Soviet rock concert and embarking on a 1988 tour with great jazz saxophonist Wayne Shorter.
Carlos Santana has also contributed his talents tot he benefit of numerous charitable causes, among them Blues for Salvador, San Francisco Earthquake Relief, Tijuana Orphans, Rights of Indigenous Peoples, and education for Latin youth in association with the Hispanic Media &Education Group. He's received numerous civic and humanitarian commendations over the years. In 1998, Carlos Santana and his wife Deborah started the Milagro Foundation.Its mission is to help underprivileged youths.
On Thursday, June 5, 2003, Carlos Santana pledged the profits of his 2003 Shaman tour to fight AIDS. The 23-show Shaman tour was estimated to bring in between 2.5 and 3 million dollars to the cause.
Discography:
Solo albums and collaborations:
Carlos Santana & Buddy Miles! Live! (Columbia, 1972)
Love Devotion Surrender, with Mahavishnu John McLaughlin (Columbia, 1973)
Illuminations, with Turiya Alice Coltrane (Columbia, 1974)
Oneness (Silver Dreams-Golden Reality) (Columbia, 1979)
The Swing Of Delight (Columbia, 1980)
Havana Moon (Columbia, 1983)
Blues For Salvador (Columbia, 1987)
Divine Light (Columbia, 2001)
Live At The 1988 Montreux Jazz Festival, with Wayne Shorter Band (Liberation Entertainment, 2005)
The Essential Santana ‎(Sony Records, 2009)
Illumination Live At Montreux 2011, with John McLaughlin (Eagle Records, 2013)
Santana band:
Santana (Columbia Records, 1969)
Abraxas (Columbia Records, 1970)
Santana III (Columbia Records, 1971
Caravanserai (Columbia Records, 1972)
Welcome (Columbia Records, 1973)
Lotus (Columbia Records, 1974)
Borboletta (Columbia Records, 1974)
Amigos (Columbia Records, 1976)
Festival (Columbia Records, 1976)
Moonflower, (Columbia Records, 1977)
Inner Secrets (Columbia Records, 1978)
Marathon (Columbia Records, 1979)
Zebop! (Columbia Records, 1981)
Shangó (Columbia Records, 1982)
Beyond Appearances(Columbia records, 1985)
Freedom (Columbia Records, 1987)
Spirits Dancing In The Flesh (CBS, 1990)
Milagro (PolyGram, 1992)
Sacred Fire: Santana Live In South America (Polydor, 1993)
Live At The Fillmore 1968 (Columbia Records, 1997)
Supernatural (Arista, 1999)
Shaman (Arista, 2002)
All That I Am (Arista, 2005)
The Woodstock Experience (Sony BMG, 2009)
Guitar Heaven: The Greatest Guitar Classics Of All Time (Arista, 2010)
Shape Shifter (Sony Music, 2012)
Corazón: Live From México – Live It To Believe It (Sony Music Latin, 2014)
Corazón (Sony BMG, 2014)
Santana IV (Santana IV Records, 2016)
Santana IV Live At The House Of Blues Las Vegas (Eagle Rock, 2016)
Power Of Peace, with The Isley Brothers (Legacy, 2017)
DVDs
Supernatural Live – An Evening with Carlos Santana and Friends (2002)
Santana – Live by Request (Arista, 2005)
Books
Jam with Carlos Santana with CD with CD (Audio). Publisher: Warner Brothers Publications (2000). ISBN: 1843285371
Santana Easy Guitar Anthology. Publisher: Alfred Publishing Company (2001). ISBN: 0757902200
In Session with Carlos Santana. Warner Bros Pubns; Book & CD edition (1999). ISBN: 1859096220
Carlos Santana: Back on Top by Marc Shapiro. Publisher: St. Martin's Griffin (2002).ISBN: 0312288522
Soul Sacrifice by Simon Leng. Publisher: Firefly Publishing (2000). ISBN: 0946719292