Seckou Keita was born in 1977 in the green region of Casamance (south of Senegal),. He is a descendant of the Keita family of Kings from Mali.
Seckou's lineage would normally not allow him to become a jeli (griot), but he was raised by his mother's family, the Cissokho's [also known as Sissoko], a well-established griot family in Senegal.
Although a kora player through the jeli tradition, his thirst for music has also made him an outstanding drummer and percussionist.
Seckou started to perform professionally at festivals in Senegal at the age of seven, supporting his famous uncle Solo Cissokho. By the age of 12, he had formed his own group, Coute Diomboulou and was performing throughout the country.
His international career took off in 1996 under the guidance of his uncle Solo Cissokho, living in Scandinavia.
Seckou performed at the Forde festival in Norway with musicians from Norway, India and Cuba. The group combined the traditional music from each of the countries represented to create a new musical style. This led to a tour for the group the following year at the Global Music Festival in India where they performed with Dr L. Subramanian, an internationally renowned violinist and composer.
In 1998, Seckou relocated to the UK where he became a member of Baka Beyond. He performed around Europe (the Czech Republic, Spain, France, Portugal, Greece and of course the UK) in festivals such as Womad and Glastonbury.
He became an indispensable element of most of the African festivals such as Drum Camp, Ace and Tribe of Doris. And has also been greatly in demand for private parties, weddings and first night openings of musicals such as the Lion King in Covent Garden.
In the middle of 2000, Seckou started recording his first album "Baiyo" (meaning Orphan). The album was finally released on June 20t, 2001. Baiyo represents Seckou's journey from Africa to Europe via India.
He also participated in the ETE project, which released an album in November 2001 and led to a UK tour on March 2002.
In 2001, he impressed audiences as a solo performer at WOMAD Las Palmas (Spain), the Sacred Music Festival (Ireland) and at the Jazz Café (London) for the Africa night broadcasted by BBC Radio 3. This wassuch a success that he was nominated by the listeners of Radio 3 for the World Music Award 2001.
Seckou also created Jamoral, which was the first step to modernizing kora music with a groove dance approach. The band performed at different festivals such as WOMAD Reading, the Edinburgh Festival and the Epicuriales (France).
As a musicians family, the Cissokhos have always dreamt of being united to carry on the powerful tradition throughout the world and to introduce in its modern form. This dream was first mentioned by Solo the patriarch of the family Solo Cissokho and was called Jalikunda (the House of Griots).
In 2002, Seckou carried on this idea by inviting 4 members of his family to tour all over UK in renowned festivals such as Glastonbury (Jazz/World Stage), Womad festival and Window of the World where the band performed alongside Cheikh Lo and Papa Wemba.
This was such a success that Seckou decided to produce the first family album, <a
href="http://www.amazon.com/gp/product/B00009AQMW/105-2850599-3152441?ie=UTF8&amp;tag=musidelmund-20&amp;linkCode=xm2&amp;camp=1789&amp;creativeASIN=B00009AQMW">Lindiane</a>, which was released in February 2003.
In 2004, he began working with Juldeh Camara, the monocord fiddle or riti player from The Gambia who later hit the big time with Justin Adams and Robert Plant.
A new 'quintet' began to form around Seckou which included the bassist Davide Mantonvani, Seckou's 17-year-old brother Surhata Susso and the classically-trained violinist Samy Bishai. Mandé, Arab, Indian, pan-African, jazzy – a wonderful mix of sounds was present on the group's first album Tama Silo: Afro-Mandinka Soul, released in 2006. Seckou then took the quintet back home to showcase this new blend to family and friends in Senegal, where they were joined by his sister Binta Susso.
Their next album, The Silimbo Passage released in 2008. The Seckou Keita Quintet toured incessantly during this period, notching up more than 200 concerts in over 40 countries.
Seckou also became involved with the WOMAD festival as a performer and a workshop host, traveling to Singapore, Australia and the Canary Islands, and played at WOMAD UK with Catrin Finch in 2014.
He is a regular performer in Do You Speak Djembe?, an ambitious percussion extravangaza series in France and Switzerland created by Sewabeats founder Doug Manuel, and French composer Philip Fournier, the lead conductor of the Lyons Symphony Orchestra.
His previous albums Miro and The Silimbo Passage hit No.1 in the European world music charts. The collaboration has since given over 130 performances throughout Europe, the US and Canada and garnered huge critical acclaim from fans and critics alike.
His solo album, 22 Strings, was released in May 2015.
In 2016, Seckou was invited to play with Damon Albarn's African Express with the Orchestra of Syrian Musicians.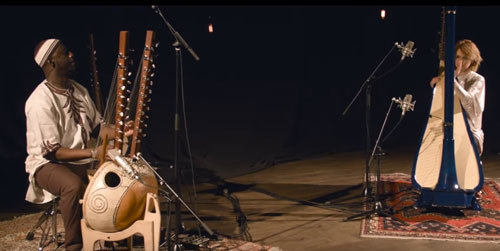 The second collaboration with Catrin Finch was SOAR, released in 2018.
In 2018, Keita formed AKA Trio, together with Italian guitarist Antonio Forcione and Brazilian percussionist Adriano Adewale. The group released an album titled Joy in 2018.
Discography:
Baka Beyond Presents Eté ‎(March Hare Music, 2001)
Mali (ARC Music, 2003)
Afro Mandinka Soul: Tama Silo (ARC Music, 2006)
The Silimbo Passage (World ArtVentures, 2009)
Miro (Astar Artes Recordings, 2012)
Clychau Dibon, with Catrin Finch (Astar Artes/Mwldan, 2013)
22 Strings – 22 Cordes (ARC Music, 2015)
Transparent Water, with Omar Sosa (Otá Records, 2017)
Soar, with Catrin Finch (Bendigedig, 2018)
Joy ( Bendigedig, 2018)