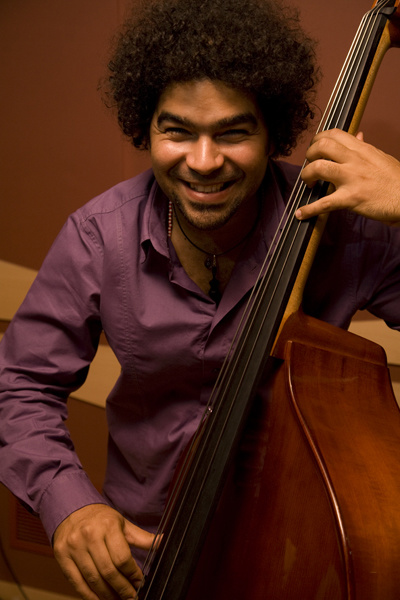 Dany Noel was born in Havana, Cuba. He began his performing career at only 8 years old singing and playing guitar. After taking up acoustic and electric bass, he began to play with the top son, salsa and timba groups from Cuba. Ultimately, he left his native country to settle in Torino, Italy.
Dany is a renowned bassist, musical director, arranger, composer, producer, singer and graduate of classical guitar at the Conservatorio Ignacio Cervantes de la Habana. He has collaborated and recorded with prestigious musicians such as Celia Cruz, Omara Portuondo, Chucho Valdés, Pio Leyva, Xiomara Laugart, Iovanny Hidalgo, Richie Flores, Jose Alberto El Canario, Richie Rey, Rey Sepulveda, Mayito Rivera, Roberto Van Van, Changuito, Alexander Abreu and Jerry Gonzalez among others.
He moved to Europe in 1997, first to Italy. Along with Cuban drummer Horacio "El Negro" Hernandez, he formed Italuba as bassist, musical director, arranger and composer.
Dany is currently living in Madrid and has worked with Spanish, Argentine and Greek artists Luz Casal, Victoria Abril, Lolita Flores, Ainhoa ​​Arteta, Mariza, Arvanitaki Elefteria, Fito Páez, Ojos de Brujo, José Luis Perales and film director Fernando Trueba in his movie Chico y Rita.
He has also entered the pop and flamenco scene, which has led him to record with artists such as Niño Josele; Concha Buika on her album Niña de Fuego, winner of a Grammy Award, produced by Javier Limón; and Limón's project Son de Limón, as bassist, voices and arranger.
In his 2017 album, Por La Habana , Danny focuses on the roots of Cuban music, his ancestors and his own words: "It's an album so that my parents and my people won't stop dancing".
Discography:
Mi Sentir (2006)
Dime Si Tú Sabes (2006)
Proposicion (2011)
Confidence, with Dario Chiazzolino (2014)
Tinta Unida (2014)
Por La Habana ‎(Abanico Records, 2017)
With Italuba:
Italuba (Timba Records, 2002)
Italuba II (Cacao Musica, 2006)