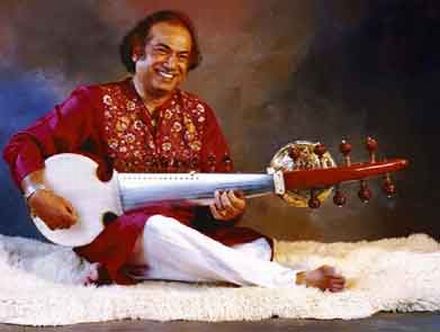 Aashish Khan Debsharma was born on December 5, 1939 in Maihar, India. He gave his first public performance at the age of 13, with his grandfather, the legendary Acharya Allauddin Khan on the All India Radio National Program", New Delhi. That same year, he performed with his father Swara Samrat Ali Akbar Khan and grandfather at the "Tansen Music Conference", Calcutta. Since then, he has performed throughout India and the world not only with his father, but as a soloist in his own right.
Besides his virtuosity as a traditional sarodist, Aashish pioneered in the establishment of the "world music" genre. He was a founder of the Indo-American musical group "Shanti" in 1969/70 and the fusion group The Third Eye for which he was the first to write a sarod concerto in the "raga" form.
Aashish has collaborated with such diverse Western musicians as John Barham, George Harrison, Eric Clapton, Charles Lloyd, John Handy, Alice Coltrane, Emil Richards, Dallas Smith, John Pope, Jorge Strunz, Ardeshir Farah, and the Philadelphia String Quartet.
Discography:
Sarod: Sound of Mughal Court (1996)
Jugalbandi: Sarod & Sarangi Duet, with Ustad Sultan Khan (Chhanda Dhara, 2000)
Golden String of the Sarode, with Ustad Zakir Hussain (Moment Records, 2005)
Live in Los Angeles, with Ustad Alla Rakha (2007)
Inner Voyage, with Alan Scott Bachman and George Grant (Desert Wind Music, 2010)
Jugalbandi II, with Pandit Swapan Chaudhuri and Pandit Hariprasad Chaurasia (Times Music)