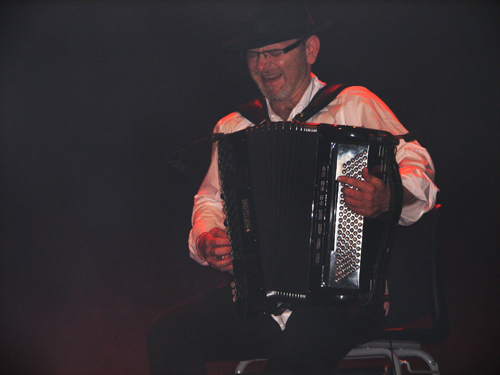 Born in Cracow in 1969, Jerzy Bawol started playing the accordion in elementary school at the age of nine and gave his first concert at the age of twelve. During his time at the High School and the Music Academy of Cracow, where he studied classical accordion, he was touring Poland, Germany and France with solo concerts.
After finishing the Academy in 1992, he worked moreover as a studio musician and with the Cracow opera, focusing on contemporary music.
His work with Kroke is definitely influenced by his grandfather, who was an acclaimed Klezmer musician.
Discography
* Klezmer Acoustic Music Trio (Oriente Musik, 1996)
* Eden (Oriente Musik, 1997)
* Live at The Pit (Oriente Musik, 1998)
* The Sounds of the Vanishing World (Oriente Musik, 1999) – German Record Critics Award in 2000
* Ten Pieces To Save The World (Oriente Musik, 2003)
* East Meets East (EMI classics, 2003)
* Quartet – Live At Home (Oriente Musik 2004)
* Seventh Trip (Oriente Musik 2007)
* Out of Sight (Oriente Musik 2009)
* Feelharmony (EMI Music Poland, 2012)
* Ten (Oriente Musik, 2014)
* Cabaret of Death: Music for a Film (Oriente Musik, 2015)
Traveller (Universal Music Polska, 2017)
Kroke 25, The Best Of (Universal Music Polska, 2018)