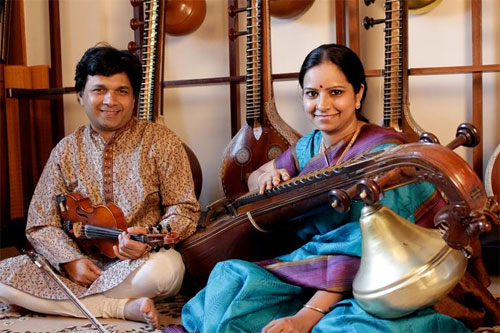 The husband-wife duo of violin maestro R. Kumaresh and veena virtuoso (lute) player Jayanthi Kumaresh are set to perform on October 1st at the Thalia at Symphony Space in New York City. This concert is part of the Carnatic Masters series, featuring leading figures in South Indian music, presented by Robert Browning Associates.
R. Kumaresh and Jayanthi Kumaresh are two of the leading instrumentalists in their respective fields. The duo will perform solos and duets accompanied by R. Sankaranarayanan on mridangam (double-headed barrel drum) and S. Krishnaswamy on ghatam (clay pot drum).
R. Kumaresh has 40 years of concert experience and is internationally renowned both as a soloist and for his duets with his brother, Ganesh Rajagopalan.
Jayanthi Kumaresh traces her musical heritage back six generations. She has captivated audiences around the world for 30 years and collaborated with many of India's major artists.
8:30 p.m.
Leonard Nimoy Thalia at Peter Norton Symphony Space
2537 Broadway at 95th Street, New York City
Tickets: $28; seniors, students $24; day of show $32
Tel: 212-864-5400
Tickets: www.robertbrowningassociates.com