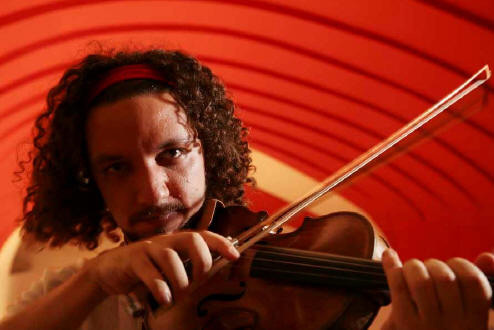 Violinist Ricardo Steuer Herz was born in 1979 in Sao Paulo, Brazil. Herz has plenty of experience as a classically-trained musician. He also received training in jazz from the prestigious Berklee College of Music in Boston.
In France, he studied with Didier Lockwood. "Ricardo Herz proposes us a music that is rich in emotion and is extremely happy at the same time," said Didier Lockwood. "Brazilian music, his area of expertise, is magnificently represented by Herz's talent and originality. He's a great composer and improviser, both at the same time; his potential is extraordinary."
Back home in Brazil, Herz won the popular jury at Visa Prize for Brazilian Music in 2004. Since then, he released his first solo album, Violino Popular Brasileiro (Brazilian Popular Violin) and has performed with talented artists such as Yamandu Costa, Hamilton de Holanda and the forro legend Dominguinhos. "He has a unique way of playing forro on the violin," said Dominguinhos. "Ricardo plays a refined instrument and he is one of the best musicians out there lately."
Herz's repertoire is extremely rich in instrumental Brazilian melodies and ranges from Northeastern rhythms to choro, samba and its multiple variables. His research and in depth knowledge of Brazilian music inspired his second solo album, Brasil em 3 por 4, which will include famous popular waltzes by composers Milton Nascimento, Pixinguinha and Djavan.
Experimenting at his home studio, Ricardo recorded all the violins on this album. He plays the bases, the solos and everything else. He says: :I've always wanted to record a solo album playing in duos, trios and quartets, all by myself!", he laughs. The album will be released in September 2007. Currently, Ricardo lives in Paris and, aside from his solo work, he performs with various other groups.
Discography:
Violino Popular Brasileiro ‎(Eldorado ELD-06-6049 2004)
Brasil em 3 por 4 (Scubidu Music, 2007)
Para Crianças (Scubidu Music, 2009)
Aqui é o Meu lá (Scubidu Music, 2012)
Novos Rumos (YB Music, 2015)
Torcendo a Terra (Scubidu Music, 2017)
Duo, with Nelson Ayres (Tratore, 2017)
Label: