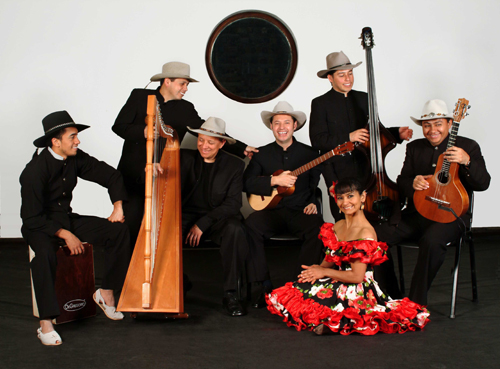 Joropo is a musical genre and dance form found in the plains of Venezuela. Los Llanos, the broad plains of western Venezuela and eastern Colombia, watered by the Orinoco River and its tributaries, are home to música llanera (literally, "plains music"), the engaging musical traditions created by ranching people with a love for cattle, horses, music and dance. At the heart of this region's music is joropo, a hard-driving music that brilliantly showcases the percussive capabilities of stringed instruments and the musician's ability to improvise.
The main instrument of llanera music is perhaps an unexpected one – the harp. Introduced to South America in the 18th century by the Spaniards, in the hands of the llanero, or plains cowboy, the harp became a percussive dynamo that serves as the backbone of música llanera Joropo ensembles are generally comprised of the harp, the bandola llanera (a four-stringed pear-shaped guitar), the small four-stringed cuatro, contrabajo (acoustic bass), rounded out by maracas (gourd rattles) and vocals.
Joropo music features both slower, more lyrical songs called pasajes as well as faster tunes called golpes. The hallmarks of the traditional joropo singer are a powerful voice that can handle the fast, hard-edged vocal style and the ability to improvise the lyrics.
 
As rural llaneros and musicians have migrated to cities for economic opportunities, the music of the plains has gained prominence in Colombia and Venezuela and is now a part of the commercial music industry and festivals Música llanera has become an expression a regional pride.
Joro Subgenres
Joropo oriental – Joropo Oriental is a rare Venezuelan version of the genre that is characterized by an improvisational style of singing, a variety of stringed instruments such as the bandola, mandolin, guitar and cuatro plus a regionally distinct style of maracas that provides the only percussive element.
Sources: Richmond Folk Festival, Old Town School of Folk Music