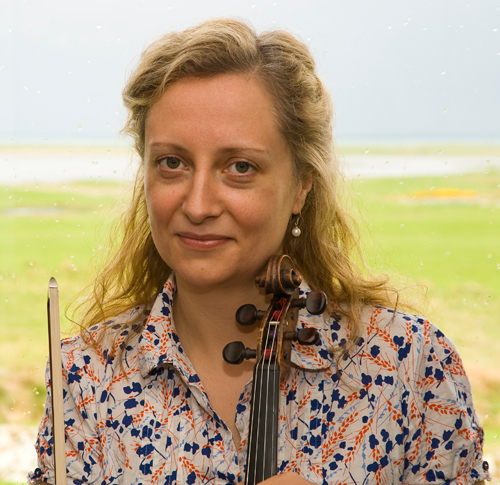 Anna Wendy Stevenson
Raised in Edinburgh, and surrounded by music from a family steeped in the arts, violinist, composer and producer Anna Wendy Stevenson has made her name as a highly respected performer and teacher of traditional fiddle. She studied music with her grandfather, composer Ronald Stevenson, and won a scholarship to study in the USA when she was only 19.
A founding member of highly successful trio Fine Friday, Anna Wendy has recorded and toured extensively throughout Europe, Canada and Australia performing at many of the top festivals (The National Festival, Celtic Colours International Festival, Celtic Connections, Port Fairy). She is also a member of all female quartet Calluna and was a member of globe trotting band Anam. Anna-Wendy also performed with the Bella MacNab Dance Band, the ceilidh band of choice for the Edinburgh's Hogmanay Revels at the Assembly Rooms.
A holder of the London College of Music LLCM, ALCM (diplomas in teaching and performance) and renowned for her innovative approach to teaching, Anna-Wendy is a principle teacher at Lochgoilhead Fiddle Workshop and is involved with the Feis and other teaching organizations. Her excellent communication skills have led to extensive work with Yehudi Menuhin's Live Music Now Organization bringing music to people with special needs.
Anna-Wendy released the CD Gowd and Silver with her grandfather Ronald Stevenson featuring a selection of Ronald's arrangements of Scottish melodies as well as some of his original compositions.
Discography:
Dance Tunes, Airs and Songs from Scotland, with Calluna (Scottish Mill Records, 2000)
Gone Dancing, with Fine Friday (Foot Stompin' Records, 2002)
Mowing the Machair, Fine Friday (Foot Stompin' Records, 2005)
Gowd & Silver (Eclectic Records, 2005)
Anna-Wendy Stevenson (2006)
My Edinburgh (Anna-Wendy Music, 2010)