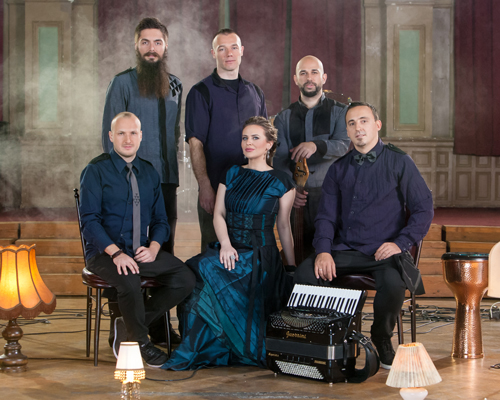 Divanhana is based in Sarajevo, a city historically described as a crossroads between the East and the West. Divanhana present new arrangements of urban traditional music from Bosnia and Herzegovina, with a particular emphasis on the soulful sounds of Sevdalinka, the musical vehicle for the expression of amorous longing and melancholy, passion and joy, with its roots in the days of the Ottoman Empire.
The band was formed in 2009 by a group of young students from the Sarajevo Music Academy who, with their contemporary instrumentation of brass, piano, bass and drums complimenting the traditional accordion and vocals, open up the Sephardic and Oriental elements of Sevdalinka to a new jazz sensibility, while the clear tones of singer Leila Catic deftly span the emotions between heartache and playfulness.
Personnel: Azur Imamovic – bass; Danijel Condric – guitar; Irfan Tahirovic – percussion; Ismar Poric – clarinet, saxophone; Leila Catic – vocals; Nedžad Mušovic – accordion; Neven Tunjic – piano; Rifet Camdžic – drums.
Discography:
Dert (Yaman, 2011)
Biljeske Iz Sestice (Multimedia Music, 2013)
Zukva (Multimedia Music, 2015)
Live in Mostar (Multimedia Music, 2017)
Kardes (Multimedia Music, 2018)