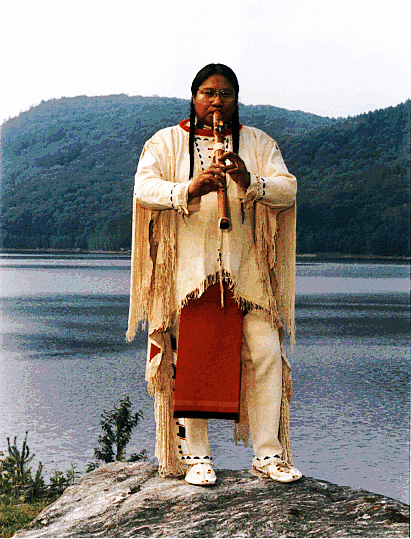 Joseph Firecrow's musical journey began as a child. "Drums were a regular part of our lives. In the summer were the war dances now called powwows. As kids we would imitate the drummers on my mother's galvanized washtub."
"The very first time I heard the flute I was a young boy living on the Northern Cheyenne Reservation located in Southeastern Montana. Grover Wolfvoice was the fluteman playing this wonderful music."
"The music was beautiful to my ears yet it scared me. There was much poverty and depression at that time. The sound of the flute touched my heart where there was much pain and uncertainty. Through all of the hardships of reservation life the beauty and wonder of our homeland beckoned to me."
Born in Montana and raised on the Northern Cheyenne Reservation until he was nine years old Joseph attended public school and a Catholic school before being placed with a foster family in Seattle as part of the Mormon Indian Placement program. He joined them in their Mormon worship and attended Brigham Young University in Provo Utah as was expected of him.
"I was starting to forget my Cheyenne Language and heritage. I needed to find out who I really was but I also had a lot of opportunities given to me and I wanted to take advantage of them."
Just when it appeared he might forsake his Native American ancestry, two events happened that lead Joseph back to his people. Joseph reconnected to his heritage through music while he was in college and he read the book Cheyenne Memories by John Stands. "It was pivotal in my life in teaching me about the Creator and how we are tied to the land and animals."
After three-and-a-half years of college education he returned to his reservation where it took a number of years to be totally accepted. "When I first went home, I sat in with my uncle's drum group and there were certain members who said '̶What are you doing here? Are you trying to be an Indian?'"
Despite the initial adversity, Fire Crow re-integrated into his tribe and became a respected fluteman who was frequently called upon to perform at various community events such as weddings and funerals. He also shares his music and tribal history through lectures and workshops which include lessons in flutemaking.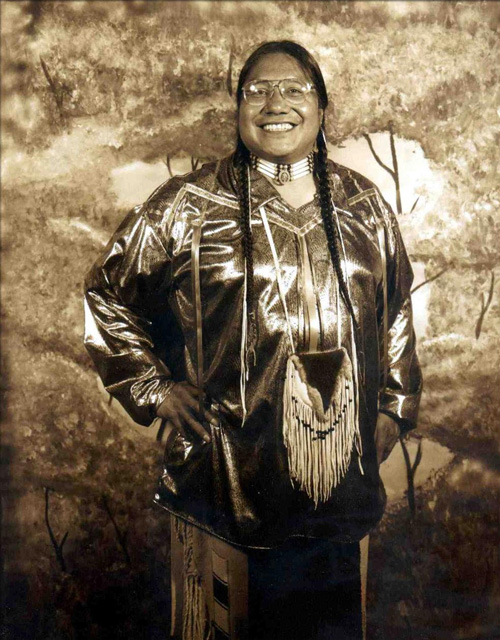 "The Northern Cheyenne to this day are still very much a traditional and ceremonial people. These things give us our identity. The wooden flute is a tradition that is passed on from one generation to the next. Through our oral history stories legends ceremonies societies and songs our culture is maintained. The flute is kept in the same manner. The legend of how the flute came to the people the songs that are called wolf-songs and the construction of the flute are all kept strong and vibrant."
In 1992 Fire Crow recorded the album The Mist. Two years later he released a second self-produced recording Rising Bird. These recordings were sold only at concerts.
In April of 1996 his self-titled release Fire Crow was one of the first recordings to be launched nationally on the Makoche label and was one of the label's best sellers.
Fire Crow's follow-up album Cheyenne Nation is a soulful mixture of traditional flute and contemporary instrumentation promoting the unity of the Cheyenne people.
In 1995 Fire Crow's songs "Creator's Prayer" and "Wind in My Mind" were selected to open and close the best selling album Tribal Winds: Music from Native American Flutes on the Earthbeat label. Ken Burns also chose some of Fire Crow's music to be included on the soundtrack for his documentary "Lewis and Clark: The Journey of the Corps of Discovery."
Fire Crow is included on Earthbeat's Tribal Voices and Tribal Waters compilations as well as being a major contributor to several European releases including Shaman Circles of Life and Medicine Power on the German label Sattva.
Joseph has won numerous Native American Music Awards (NAMA).
Discography:
The Mist (1992)
Rising Bird (1994)
Fire Crow (Makoché Music, 1996)
Cheyenne Nation (2000)
Legend of the Warrior (2003)
Red Beads (Makoché Music, 2005)
Face the Music (2009)
Night Walk (2012)
http://www.josephfirecrow.com