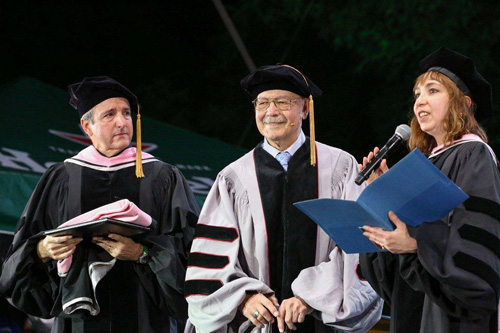 Musician and composer Ray Santos died October 17, 2019.
Ray Santos was born December 28, 1928 in New York City to Puerto Rican parents. Known as "El Maestro" by his fans and fellow musicians, was a leading expert on Afro-Caribbean music. His Juilliard School training allowed him to cross borders with success, honesty and class. Over his 90 years, Santos became a legend in the world of Latin music and left a deep-rooted mark with his artistry. The Latin Recording Academy honored him with 2011 Board of Trustees' Award.
Known for the layered complexity of his arrangements, for more than 50 years, Santos performed, composed, and arranged for leading Latin music orchestras, including the legendary ensembles of Tito Puente, Tito Rodríguez, Mario Bauzá, and Machito. He was also essential in albums recorded by Linda Ronstadt, Eddie Palmieri and Paquito D'Rivera, to name a few. In addition, he was a respected professor of music at the City College of New York, where he taught for nearly 30 years and directed the college's Latin band.
"We are forever thankful to the amazing gentleman Mr. Ray Santos, who was also committed to music education, fostering the next generation of music makers," said Gabriel Abaroa Jr., President/CEO of The Latin Recording Academy. "His legacy lives on in his music and the hearts of our music community, forever inspired by his commitment and remarkable craft.  Our hearts go to his family during this difficult time."
Ray Santos received an honorary doctorate of music on March 20, 2016.