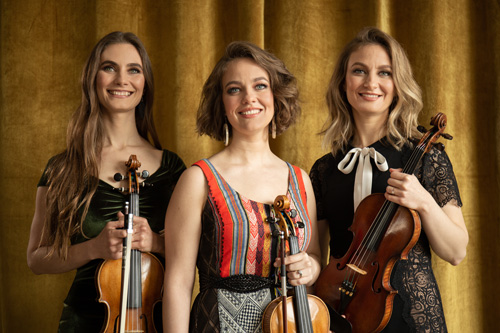 Grace, Sophia, and Hulda Quebe grew up in North Texas. Although they initially studied classical violin, in 1998 the sisters changed to western fiddle when they visited the North Texas State Fair in Denton, Texas. There, they first listened to Texas-style fiddling. Later, they met Joey and Sherry McKenzie, national fiddle champions and organizers of the Bob Wills Fiddle Festival & Contest in Greenville, Texas.
The Quebe sisters became students of the McKenzies and the Quebe family relocated to Burleson, Texas in Tarrant County. The sisters studied with the McKenzies for several years and Joey McKenzie became their arranger and a longtime member of their band.
In 2003, The Quebe Sisters released their first album, Texas Fiddlers, supported by Joey McKenzie on rhythm guitar, Mark Abbott on bass and steel guitarist Tom Morrell.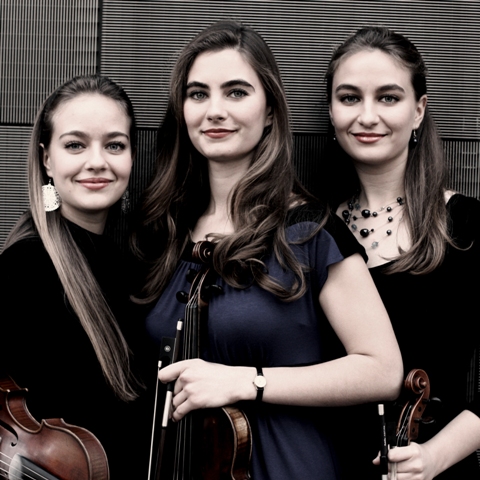 The Quebe Sisters are currently based in Dallas. The sisters and their band present a distinctive triple fiddle and three-part harmony mix of western swing, jazz-influenced swing, country, Texas-style fiddling, and Western music.
"We differentiate our music as 'Progressive Western Swing' from simply 'Western Swing' because we aren't trying to sound just like Bob Wills," Grace Quebe explains. "Instead, we continue his vision, playing the style he pioneered in an authentic way by incorporating new genres and songs, interpreting them using our own unique voice through Country instrumentation."
The band continues the traditions once found in Texas dance halls and honky-tonks. Grace adds, "To us, preserving the tradition of Western Swing isn't about keeping something alive like a relic. Western Swing has always been about innovation."
Discography:
Texas Fiddlers (2003)
Timeless (FiddleTone Records, 2007)
Every Which-A-Way (FiddleTone Records, 2014)
The Quebe Sisters (independent, 2019)