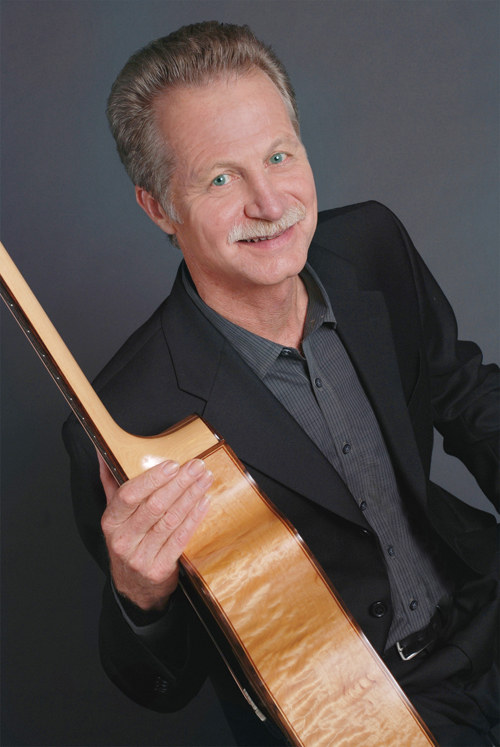 Alex de Grassi was born February 13, 1952 in Yokosuka, Japan but grew up in the San Francisco Bay Area. He started music on the trumpet, but at age 13, discovered the guitar and hasn't looked back.
He studied guitar with noted teacher Bill Thrasher, jazz piano with Mark Levine and composition with William Mathieu. A Grammy Award nominee and Indie Award nominee for The Water Garden, his first recording was Turning: Turning Back, in 1978, for the fledgling Windham Hill Records, and he became one of the most popular artists on the contemporary acoustic label that would become a recording industry phenomenon.
De Grassi has played at such notable venues as the Montreux Jazz Festival, Carnegie Hall, Belfast International Festival, Telluride, and Wolftrap. In addition to his own workshop series, Alex has taught at the National Summer Guitar Workshop, the Milwaukee Conservatory of Music, and the Omega Institute. He was the subject of a PBS concert/interview television show, and collaborated with Chilean multi-instrumentalist Quique Cruz in the band Tatamonk and with experimental guitarist G.E. Stinson.
Discography:
Turning: Turning Back (Windham Hill, 1978)
Slow Circle (Windham Hill, 1979)
Clockwork (Windham Hill, 1981)
Southern Exposure (Windham Hill, 1983)
Altiplano (RCA/Novus, 1987)
Deep at Night (Windham Hill, 1991)
A Windham Hill Retrospective (Windham Hill, 1992)
The World's Getting Loud (Windham Hill, 1993)
Beyond the Night Sky: Lullabies for Guitar (EarthBeat, 1996)
Alex de Grassi's Interpretation of Simon & Garfunkel (Northsound, 1997)
Alex de Grassi's Interpretation of James Taylor (NorthSound, 1998)
The Water Garden (Tropo, 1998)
Bolivian Blues Bar (Narada, 1999)
Tatamonk with Quique Cruz (Tropo, 2000)
Shortwave Postcard, with G.E. Stinson (Auditorium, 2001)
Now & Then: Folk Songs for the 21st Century (33rd Street, 2003)
Pure Alex de Grassi (Windham Hill, 2006)