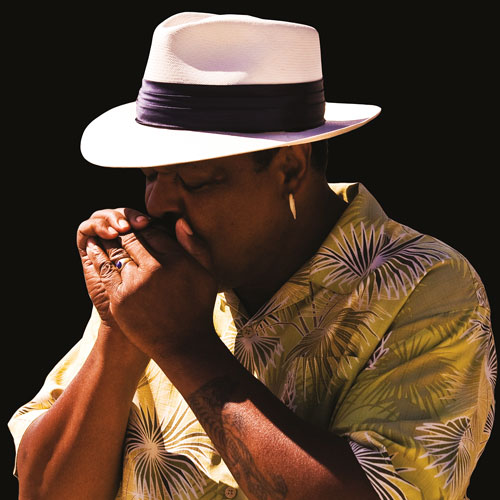 Phil Wiggins was born in Washington D.C. in 1954. He began his musical career with some of Washington's leading blues artists, including Archie Edwards and John Jackson, and attributed his style to his years spent accompanying locally noted slide guitarist and gospel singer Flora Molton.
His harmonica sound developed from listening to piano and horn players, as well as the music of Sonny Terry, Sonny Boy Williamson, Little Walter Big Walter and Junior Wells. Phil also apprenticed with Mother Scott (a contemporary of Bessie Smith).
Phil first met John Cephas in 1976 at the Smithsonian National Folklife Festival in Washington D.C. Along with pianist Wilber "Big Chief" Ellis and bassist James Bellamy, John and Phil formed the Barrelhouse Rockers.
A year after Ellis' death", the duo of Cephas and Wiggins was born. Besides being a renowned harmonica player, Wiggins is also a gifted songwriter and singer whose material helped define the duo's sound.
According to Wiggins, "People automatically think of sadness and depression when they think of blues. But the blues of course is uplifting music music to rejuvenate you to nourish the spirit. When you get down the blues will pick you up again."
The duo ended after John Cephas died in 2009.
Discography
Living Country Blues USA Vol. 1 (L+R, 1981)
Sweet Bitter Blues (L+R, 1984 reissued by Evidence Records in 1994)
Let It Roll: Bowling Green (Marimac, 1985 )
Dog Days of August (Flying Fish, 1986)
Guitar Man (Flying Fish, 1987)
Walking Blues (Marimac, 1988)
Flip, Flop & Fly (Flying Fish, 1992)
Bluesmen (Chesky, 1993)
Cool Down (Alligator, 1996)
Homemade (Alligator, 1999)
Somebody Told the Truth (Alligator, 2002 )
Shoulder to Shoulder (Alligator, 2006)
Richmond Blues (Smithsonian Folkways, 2008)