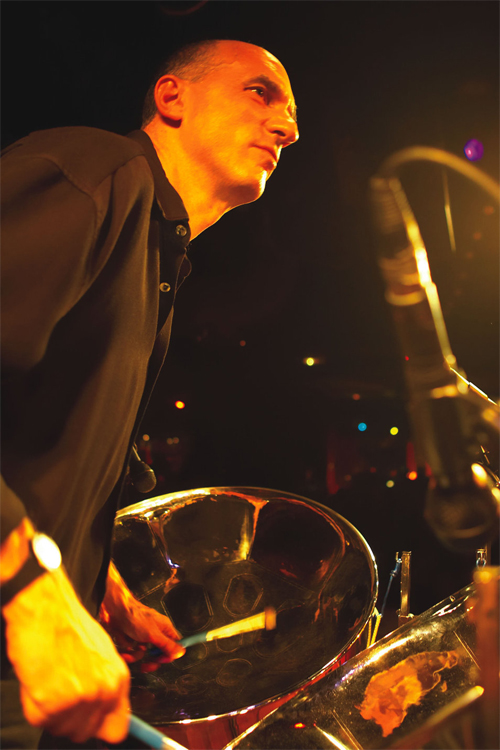 Though a native of New York, Andy Narell has spent more than two decades developing a global reputation as a steel pan virtuoso whose multicultural style embraces a range of Afro-Caribbean, Latin jazz and pop traditions. He's one of only a small handful of steel pan players in the world who are playing jazz, and perhaps the only one among that circle of musicians to commit an entire career — live and in the studio — to creating new music for the steel pan in that context.
Andy Narell was born in 1954 in New York City, New York. His father, Murray Narell, a social worker, met a gentleman from Antigua who needed a job and he knew how to make and play steel drums. Andy's father had the idea of teaching the neighborhood kids how to play steel drums so he started one of the first steel pan programs in the United States. Muray Narell traveled to Trinidad several times, met with some of the top steel pan performers and makers and wrote notes about this encounters. He also brought back steel pans from Trinidad.
Andy Narell started his own steel band group in Queens. The group played regularly at festivals, weddings, benefit concerts and other events. In 1966, at the age of 12, Narell traveled to Trinidad for the first time. The locals were surprised to find such a great technique in a 12 year old boy from New York.
For many years, Narell worked within the context of jazz and world music. One of the highlights of his career came when he teamed with Paquito D'Rivera and Dave Samuels to form the Caribbean Jazz Project. While Narell was busy playing around the U.S., Europe and the Caribbean, or composing for the Panorama steel band festival in Trinidad, or laying down tracks on albums, films and commercials, a grassroots movement was taking shape in South Africa that would have a dramatic influence on his musical and cultural perspective. The lifting of economic restrictions and the transition to majority rule in South Africa in the early 1990s allowed residents of the major cities and outlying townships easier access to recorded music from around the world. A network of "listening clubs" sprouted throughout the region as low-income South Africans pooled their monies to buy CDs of their favorite artists.
By the late 1990s, Narell had ascended to folk-hero status in a fan club he knew nothing about. Narell had been hearing rumors as early as the mid-1990s, but he didn't know what to make of them.
When South Africa's government-sponsored Arts Alive festival invited him to come and play in September 1999, he figured he might fill a couple 200 or 300 seat clubs, maybe play an outdoor gig or two, and then come home. He figured wrong. When Narell and Heads Up president Dave Love landed in South Africa, the entire Andy Narell Jazz Club was at the airport, waving signs and sporting hats and t-shirts bearing his name. Arts Alive staffers told him there could be as many as 20,000 people at his outdoor performance. But even they figured wrong. Backed by some of the tightest, most intuitive jazz players from the Johannesburg scene, Narell took the stage and witnessed what he recalls as "a mass of people like I'd never seen. I'd never played in front of anything like this before in my life. The people from Arts Alive estimated between sixty and eighty thousand. And the people knew all the music. In the middle of songs, I'd hear this roar from the audience, and I'd realize that they were singing along with the music. All I could think of was, wow, we are really not in Kansas anymore. This is Africa, man."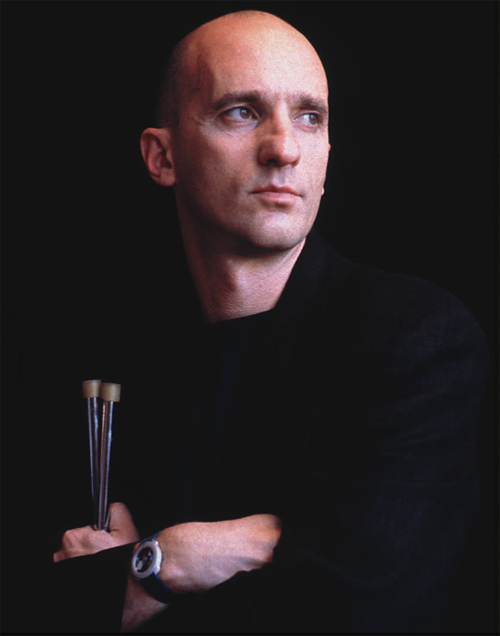 Narell came down from the experience just long enough to come home and record Fire in the Engine Room (HUCD 3056), his 2000 studio release on Heads Up. Among the musicians featured on the album was guitarist Louis Mhlanga, whom Narell had met in Johannesburg. He returned to Southern Africa in April 2000 for an extensive concert tour that reunited the band he'd played with seven months earlier and explored many of the lesser-traveled cities and townships off the beaten Johannesburg-Cape Town-Durban tour path frequented by most foreign artists.
Live in South Africa — recorded over a two-night stand at the Blues Room in Johannesburg at the tail end of the tour — chronicles another expansion of Narell's already multicultural sensibilities. The musicians are veterans of the South African music scene, and they bring a rich musical heritage to the performances. Along with Mhlanga, hailing from Zimbabwe, the lineup includes keyboardist Andile Yenana, from the eastern Capebassist Denny Lalouette, from the island of Mauritiusdrummer Rob Watson, from Bloernfonteinand percussionist Basi Mahlasela, from Soweto.
For every song Narell taught them, he learned his share of their music and culture in return. While the formula of solid material interpreted by high-caliber musicianship may be surefire, Narell insists that much of the album's energy comes from those moments — in the songs themselves and in the tour in general — when spontaneity and creative energy transcended traditional musical structures and cultural boundaries. "A few gigs into this tour, I realized. This is really clicking. We've got a band now. The guys were more comfortable with the music, and I started pushing them to experiment more and take more chances, open the music up and allow it to become more African. And sometimes we'd have people up dancing on stage, and they'd break into their township jive and the whole place would turn into a big party. Those were the greatest moments for me, when it was their culture front and center on stage."
Live in South Africa is all about the response. "With the South Africans' openness to jazz and instrumental music, somehow I've found a way in the door — or my records did, on their own," he says. "But there was no way I could have known. Recordings are like a message in a bottle, and you really don't know where the message is going to land and who's going to hear it or understand it."
His 2004 album, The Passage, which features Narell, the steelband Calypsociation, and three of the greatest soloists in jazz – Michael Brecker, Paquito D'Rivera and Hugh Masekela. The Passage was recorded and mixed using cutting-edge technology to capture all the excitement of the steelband sound, and was released in two formats: a CD, and a 5.1 surround-sound SACD.
The story of The Passage started in two places at the same time: Paris, France, and Port of Spain, Trinidad. The Parisian plot started when Narell arrived in Paris to discover the existence of Calypsociation.
"I came over here to teach in the spring of 2001," Narell recalls. "I had sent over the chart of 'Coffee Street,' and they played part of it for me – and I could hear after two minutes that I wanted to work with this band."
The fit between Narell and Calypsociation was so tight that the band commissioned him to direct, compose and arrange two ten-minute pieces for the second European Steelband Festival in 2002. That music sounded so sweet, and the experience was so rewarding on all sides, that Narell continued working with Calypsociation – a collaboration that's documented on the CD.
Narell realized that this recording provided the perfect opportunity to try something revolutionary. "Due to technical issues," he explains, "steelband recordings tend to be one-dimensional sounding. It's very hard to capture the power of the bass, the spatial relationships of the sections, and the clarity of all the inner parts. So even digital recordings tend to sound small and tinny compared with the massive power of the real thing. For this recording, we placed the microphones all around the band to capture the excitement of 30 people playing together in a large studio space. Then we overdubbed each of the eight sections of the band on top of the live performance to get a clean stereo pair of each section for presence, balance, and effect sends. This way I've got the elements I need to create a mix that puts you right there in front of the band."
That's just the stereo mix. The 5.1 surround sound SACD will be ground-breaking in more ways than one. Obviously, this is the first steelband record to be released in surround, but Narell has gone a great deal farther. "Since surround sound is such a new format, everybody is experimenting and there are very few established conventions. So rather than take the stereo mix and just add a few things to the back for interest, which is what a lot of surround mixers do, I decided to use the technology to put the listener right into the center of a steelband. It's a thrilling audio experience."
To take things to yet another level, Narell invited three jazz masters to sit in – Michael Brecker, Paquito D'Rivera and Hugh Masekela. "A lot of jazz musicians don't take steelband music seriously," says Narell. "So it was important to me that the soloists should not only be great players, but that they would approach this music with respect, and come to the session with the anticipation that they were about to play with a tight, swinging big band – which is what Calypsociation is. Mike, Paquito and Hugh exceeded my expectations, which were very high. They add a whole new dimension to the record. They play so beautifully, and the sound of their instruments soloing in front of a steelband is a totally exciting experience for me."
"It's not every day you get a world class orchestra to rehearse for two years to make a record," says Narell. "I could have spent a few thousand dollars, and a few days, to record the band, but I decided to make the most of this opportunity. We put hundreds of hours of work into recording and mixing this disc. Frankly, I'm trying to redefine the art of the steelband recording."
Discography:
Hidden Treasure (Inner City, 1979)
Stickman (Hip Pocket, 1981)
Light in Your Eyes (Hip Pocket, 1983)
Slow Motion (Hip Pocket, 1985)
The Hammer (Windham Hill, 1987)
Little Secrets (Windham Hill, 1989)
Down the Road (Windham Hill, 1992)
The Long Time Band (Windham Hill, 1995)
Behind the Bridge (Inak, 1998)
Fire in the Engine Room (Heads Up, 2000)
Live in South Africa (Heads Up, 2001)
Sakesho (Heads Up, 2002)
The Passage (Heads Up, 2004)
Tatoom (Heads Up, 2007)
University of Calypso (Heads Up, 2009)
Dis 1. 4. Raf (Listen 2 Entertainment Group, 2016)