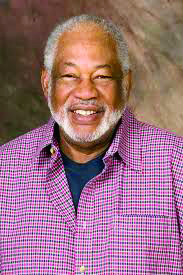 Steelpan master and educator Cliff Alexis died on January 29, 2019.
Cliff Alexis was born in Trinidad and Tobago in 1937.  He started playing steelpan at age 14 in various steel bands in the St. James/Woodbrook area.  From 1951 to 1964, Alexis performed in various steel bands such as Trinidad Triopoli, Stereo-Phonics, Invaders and Hit Paraders.  In 1964, Alexis traveled to the United States as a member of the National Steelband of Trinidad and Tobago. He toured the Caribbean, South America, Africa, Europe and the United States with the ensemble.

After the tour, Alexis moved to the United States in 1965.  In Brooklyn, New York, he arranged for BWIA Sunjets, and performed with his own band called Cliff Alexis Trinidad Troubadours.

Alexis was hired by St. Paul Public School District 625 in the state of Minnesota for 12 years, where he worked as a steelband director and tuner.  On two occasions, Alexis received the prestigious Minneapolis/St. Paul "Outstanding Black Musician" award.

In 1985, he joined the staff of the Northern Illinois University School of Music.  Together with Al O'Connor, he created steelpan studies program where students could major in steelpan as a primary instrument.  His responsibilities included maintaining and upgrading the school's large inventory of steel pans, arranging, composing and co-directing the NIU Steelband with Liam Teague.

He was the recipient of numerous awards from the Percussive Arts Society, Pan Trinbago, Trinidad and Tobago Folk Arts Institute, Northern Illinois University and others. Additionally, he was inducted into the Sunshine Hall of Fame with a Lifetime Achievement Award in 2002.  In 2011, Alexis was featured in the film titled "Hammer and Steel" produced by the University of Akron and Public Broadcasting System (PBS).

In November, 2013, Alexis was inducted into the Percussive Arts Society Hall of Fame.