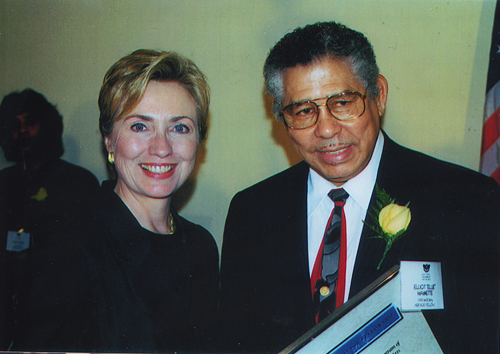 Steel pan innovator Ellie Mannette passed away August 29, 2018 in Morgantown, West Virginia. He was 90 years old.
Shannon Dudley, Associate Professor of Ethnomusicology at the University of Washington provided the following obituary: "Mannette was arguably the most influential steel pan tuner (builder) in the world because of the quality of his instruments and also his willingness to teach and share.
He made his name in Trinidad, beginning in the 1940s, as the leader and tuner for the Invaders steelband, whose instruments were sometimes referred to as "harps" because of their beautiful sound. Based at the edge of the Woodbrook neighborhood in Port of Spain, Invaders became one of the first steelbands to acquire a middle class following.
Mannette developed relationships with middle class artists, including dancer Beryl McBurnie and her Little Carib theatre. In the competitive and secretive culture of Trinidad steelbands, he was one of the few tuners who was willing to teach his skills to others, which magnified his influence.
In 1961 Mannette was hired to tune steel pans for the U.S. Navy Steelband, and a few years later he moved to Brooklyn, New York. In New York he met social worker Murray Narell and worked with him to build instruments and teach steel pan to young people in community centers. He developed a lifelong relationship with Murray's son Andy Narell, who became one of the most innovative and recognized steel pan players in the world through his fusions of Caribbean music and jazz.
In the 1970s Mannette began to work with music educator Jimmy Leyden, a pioneer in introducing steelbands into schools in the U.S., and soon became the go-to steel pan tuner for school and university steelbands across the U.S.
In 1992 Mannette began the University Tuning Project in Morgantown, West Virginia, where he took on West Virginia University students as apprentices and expanded his tuning business. In 1999 he received the NEA's Heritage Award, and was subsequently honored in Trinidad with the Chaconia Silver Medal and an honorary doctorate from the University of the West Indies.
I had the opportunity to meet Ellie Mannette a couple of times in the 1980s and 1990s. He was supremely confident of his knowledge and skills and didn't hesitate to share them. A brazen self-promoter, he also had a youthful enthusiasm for discovery and improvement that was endearing. He will be missed and remembered by steelband enthusiasts all over the world."