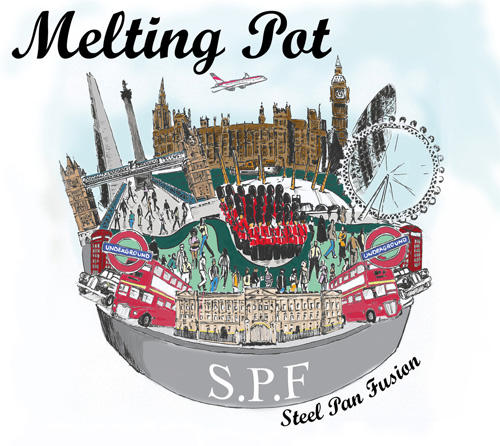 Steel Pan Fusion – Melting Pot (Steel Pan Fusion, 2017)
Steel Pan Fusion is an excellent London band led by Trinidadian steel pan maestro and composer Wade Austin. He takes the versatile steelpan to the exciting world of jazz fusion with a group of skilled colleagues that add electronic keyboards, creative drumming, funk bass, soca, world music elements and other tasty ingredients.
The lineup includes Wade Austin and David Vine on steel pan, Sam Blue Agard on drums, Liam Joseph on bass, Phillip Harper on percussion, Andre Louis and Joe McGrail on keyboards, and Adriano Rosetti-Bonell on saxophone and flute.
Two additional pannists appear as guests: Daiel Louis and Delphina James.
Melting Pot delivers superb fusion highlighting the steel pan.
Buy Melting Pot