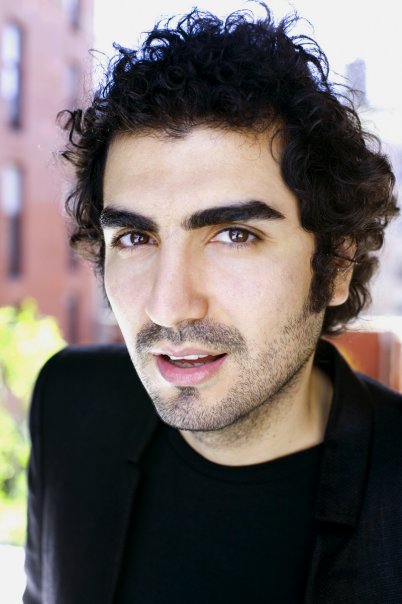 Hafez Nazeri is one of Iran's most influential and admired new composers. Son of the legendary musician Shahram Nazeri, Hafez began voice lessons at the age of three, where his brilliance became evident as he gained the first place in many voice competitions.
At the age of seven, he studied the ancient instruments of Tanbur and Setar (two types of Persian lutes). Thereafter, Hafez became intrigued by the Daf, a percussion instrument, which he self-taught creating a unique technique now emulated by many of Iran's young Daf players. His serious study of voice and Setar continued into the development of his own distinctive polyphonic combination of voice and instrumentation. He is considered to have extended the technique of Setar playing, and has received praise from Setar players and craftsmen alike.
By the age of nine, Hafez had already begun to perform alongside his father in many of European and the Middle-Eastern most prestigious music festivals. At the age of sixteen he had already performed at festivals such as of The Sfinks Festival in Belgium, Festa del Popolo in Italy; Theatre de la Ville in Paris and Beiteddine Festival in Lebanon.
In the year 2000, Hafez assembled a talented group of young performers called The Rumi Ensemble. The group performed Hafez's original musical compositions in a series of landmark concerts in twenty Iranian cities. Record-breaking audiences attended sold out performances, which were praised for their novel approach to orchestration, harmony and mode. These musical innovations not only reached younger audiences, many of whom were newly attracted to Persian classical music, but also deeply influenced the musical scenes in Iran and beyond. Selected pieces from the tour were preformed by The Armenian Philharmonic Orchestra in London?s Queen Elizabeth Hall, as well as by other musicians in various musical festivals throughout the world, such as Sweden and the Theatre de la Ville in Paris, and many other festivals.
Hafez's international appeal led to many invitations to speak at various media outlets including many radio stations such as KPBS, KPFK, KPFA, UC Berkeley Radio and NPR in the United States.
In 2005, Hafez, along with new members of his Rumi Ensemble, launched a vastly successful North American tour called In the Path of Rumi, which began with a sold out performance at the Kodak Theater in Los Angeles followed by a first-time performance at Irvine's City Hall.
In the midst of the tour, Hafez received many accolades and awards for his ground-breaking approach to traditional Persian music. With the Rumi Ensemble, Hafez aspired to create a world view of traditional Persian music, assembling artists from four different nationalities, and pioneering a new style of music, which he calls Post-Classical Persian Music.
The University of California, Los Angeles (UCLA) together with the Iranian Student Group has honored Hafez with the Distinguished Young Composer Award for his creativity and innovation in music. The Kurdish American Education Society under the United Nations Educational Scientific and Cultural Organization (UNESCO,) and A.I.P.A. have given Hafez awards of recognition for innovations in Persian traditional composition. Irvine City Hall has presented him with an honor in recognition of his efforts in introducing the music of Rumi abroad.
After his concert in San Diego, the Mayor and the Chairman of the San Diego Board of Supervisors, for the first time in the history of Persian Music in a major US cosmopolitan city, declared the day of the concert, February 25th, 2006 as Hafez Naferi Day throughout San Diego County.
He has been interviewed and has performed live on major national US TV stations such as CNN, during Live from CNN program in Atlanta, and Fox channel 5.
He received a recognition award from the Congress of the United States for his musical achievements, and has also been invited for a lecture to Harvard University and was given a Recognition Award for his endeavors in introducing Rumi to the west and for his innovations in Persian music.
Hafez has completed his studies in Composition and Conducting from New York's Mannes College of Music, and is interested in building a musical bridge between eastern and western cultures.
Discography:
Mythical Chant – Naghmeha-ye Sassani (2004)
The Passion of Rumi (Quartertone Productions, 2008)
Rumi Symphony Project: Untold (Sony Classical, 2014)
Saghi Nameh (Taraneh Records)