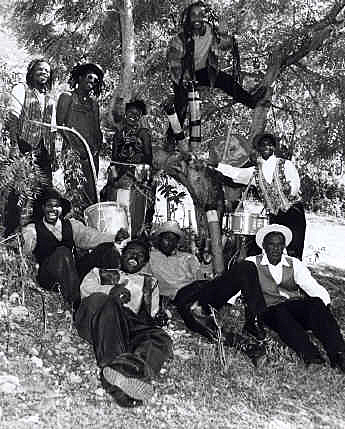 Foula Vodoule is a Haitian band that has been playing traditional music since 1978. Unique in style and presentation, Foula Vodoule combines the sound of wind instruments like the kone (long tin horns) and Vaccins (bamboo horns), drums, xylophone and vocals to create a tone that is rich, diverse and melodic.
Foula Vodoule is one of Haiti's most popular Rara band, taking to the streets of Port-Au-Prince during the traditional Rara period (Fat Tuesday to Easter Sunday). Foula Vodoule draws several thousand people who dance alongside them as they march through the streets of the capital.
Jean-Raymond Giglio and Wilfrid "Tido" Lavaud who founded the group have researched Voodoo rhythms for more than twenty years. They have incorporated their country's traditional rhythms with elements of jazz and rock &roll.
Foula Vodoule has performed in many clubs and in music festivals throughout Haiti. Every year they are part of the annual Carnival celebration. One of the country's most popular annual music festival, Jama, always gives Foula Vodoule top billing. The band also participated in Bouyon Rasin which was the first Haitian national event ever to feature Vodou inspired groups.
When the group is not rehearsing or performing, members can be found producing stunning Haitian paintings, unusual sequined art and traditional instruments. The crafts and instruments are sold locally and abroad.
Foula Vodoule is committed to sharing its cultural heritage and music as much and as far away as possible. Their very first album entitled Ede Ti Moun Yo / Help The Children was released in February 1999.