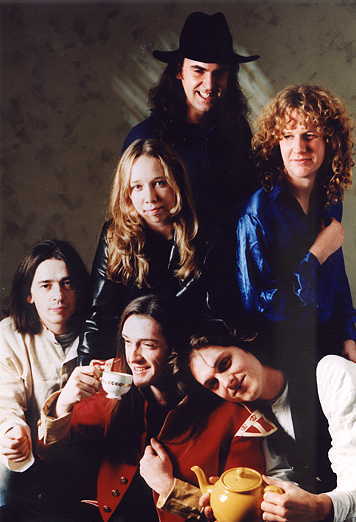 Burach is one of the most innovative and popular bands to come out of the new wave of Scottish musical inventiveness combining Celtic music and contemporary rock influences to create a unique sound that is popular with young and old alike.
Formed in the autumn of 1994, Burach won the 1994/95 Scottish Folk Group Competition. Since the release of their first album, The Weird Set, Burach have been making a name for themselves with tours to Scandinavia, Brittany, France, Holland and Italy, they have played as far as Turkmenistan in Central Asia and shared the stage with a number of prestigious performers including Big Country, Alison Moyet, Nils Lofgren and Goat's Don't Shave and have appeared on MTV, the BBC, and Russian television.
Burach is a Gaelic word colloquially meaning a mess, or more formally, "a delving in the earth." The band's second CD Born Tired, was released in 1997. Tracks from both albums have been licensed to several compilations albums, such as The Electric Muse II, EMI's Folk 'n Hell, and the Scottish Arts Council's recent release, Seriously Scottish.
Band members include: Doug Anderson on guitar, mandolin and vocals; Eoghain Anderson on drums and percussion; Gregor Borland on fiddle and background vocals; Sandy Brechin on accordion and background vocals; Alison Cherry on lead vocals and whistle; Roy Waterson on bas and background vocals.
mp;Backup Vocals
Discography:
The Weird Set (Greentrax Recordings CDTRAX93, 1995)
Born Tired (Greentrax Recordings CDTRAX136, 1997)
Deeper (Greentrax Recordings, 2000)
Unstoppable (Brechin All Records, 2006)