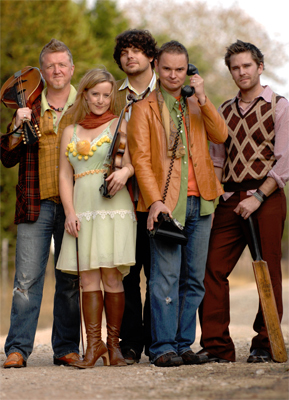 Gaelic Storm gained international success thanks to its 1997 appearance as the "steerage band" in Titanic. The band landed the part while they were still drinking pints and playing weekly at O'Brien's, the pub in their adopted home of Santa Mónica, California. After years of playing together, co-founders Murphy (vocals, piano, accordion, spoons, harmonica) and New Yorker Steve Wehmeyer (bodhran, vocals, didjeridu) settled on a permanent line-up on St. Patrick's Day 1996, including Englishmen Shep Lonsdale (drums and percussion) and Steve Twigger (guitar, mandolin, bouzouki, vocals). Gaelic Storm's recent addition, Kathleen Keane, a Chicago native born to Irish parents, has been playing since she was five and step dancing since she was seven years old. She plays tin whistle, fiddle, flute and button accordion and singing harmony vocals.
Since then, they've splayed at the largest and most prestigious Irish festivals in the United States and played for thousands in concert halls, performing arts centers and universities worldwide.
Though huge crowds initially shocked the band, Gaelic Storm is as accessible as ever, signing autographs after every show and visiting personally with their fans. "At the performing arts centers, we invite the audience out for a beer at the local bar across the street or the best Irish pub," Murphy says. "It's another way to meet and greet and get to know them better."
The reason for their popularity is the band's combination of Folk, Pop and World music influenced interpretations of Irish classics alongside poignant, well-crafted originals.
It was Gaelic Storm's first effort with producer Jim Cregan (Rod Stewart). "At our first meeting at O'Brien's, we were most impressed with his Guinness drinking abilities," Wehmeyer joked. "Once we ascertained he could drink with the band, we said, 'You've got the job. Now what kind of producer are you? "'
"Then we were playing in Ireland when he was in England. He made a great effort to get to Ireland and see us there. Once he saw us, he got us immediately. In terms of our stage show and performances, he knew our strong points," Wehmeyer said.
As producer, Cregan guided the band to new levels of excellence in songwriting and musical performance. "We gave him a sense of where we wanted to go in a way we'd already built, both live and recording," Wehmeyer said. "What's exciting is that Celtic music has never been a limiting genre. It's always been adaptive and creative. "[Cregan] played to our strengths and knew untapped potential we were able to bring out."

Discography:
Gaelic Storm (Higher Octave Music, 1998)
Herding Cats (Higher Octave Music, 1999)
Tree (Higher Octave Music, 2001)
Special Reserve (Higher Octave Music, 2003)
How Are We Getting Home? (Lost Again Records, 2004)
Bring Yer Wellies (Lost Again Records, 2006)
What's The Rumpus? (Lost Again Records, 2008)
Cabbage (Lost Again Records, 2010)
Chicken Boxer (Lost Again Records, 2012)