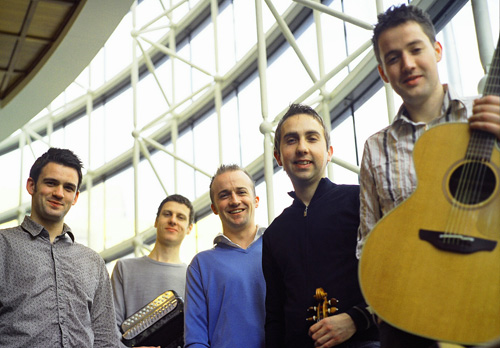 Founded by Sligo fiddler Oisín Mac Diarmada, Téada was formed in 2001 to make an appearance on the innovative Irish television series 'Flosc'. Téada (meaning 'strings' in the Irish language) emerged as one of the most exciting and traditional young Irish bands of recent years. Since 2001, Téada has evolved to frequent headline performances at major music festivals throughout the United States of America, Canada, Europe, the Middle East, Asia and Australia.
The original line-up included Oisin Mac Diarmada (fiddle), John Blake (guitar, flute, piano), Seán McElwain (guitar/bouzouki), Tristan Rosenstock (bodhrán) . With engaging textural arrangements, Téada, meaning "strings" in the Irish language revels in the vibrant traditional music of Ireland. Deftly playing up its structural intricacies while preserving the contagious energy inherent in the repertoire, the group strives to capture a sense of the rawness and individuality of the solo artist, within a modern group context.
The band released its debut album in Dublin and it reached the No. 1 position at Celtic Note, Dublin's largest Irish Music store. A notable highlight was a headlining appearance to a 30,000-audience in Brittany during 2006, a year which also saw the band launch a hugely successful CD/DVD Inné Amárach, released by released by Gael Linn and Compass Records.
Téada won Irish Music Magazines Best New Traditional Irish Band of the Year Award for 2003.
2008 proved to be an extremely eventful year for the group, with a performance at Edmonton Folk Festival in Canada and a headlining appearance at the Penang World Music Festival in Malaysia. The group also received an invitation from the Irish Embassy in Rome to perform at a commemorative event marking the 400th anniversary of the landmark event in Irish history known as "The Flight of the Earls".
Band Members in 2010: Oisin Mac Diarmada (fiddle), Paul Finn (button accordion), Damien Stenson (flute), Seán McElwain (guitar/bouzouki), Tristan Rosenstock (bodhrán)
Discography
* Teada (Ceol Records CEOCD 002, 2003)
* Give us a penny and let us be gone (Green Linnet 1228, 2004)
* Inne Amarach (Yesterday Tomorrow) (Gael Linn/Compass Records, 2006)
* Ceol & Cuimhne – Music & Memory (Compass Records, 2010)
* Ainneoin Na Stoirme – In Spite Of The Storm (2013)
Web: teada.com