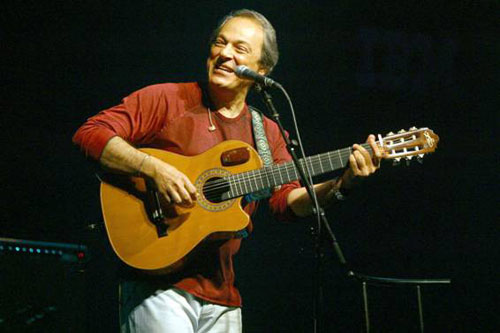 Antônio Pecci Filho, better known as Toquinho, was born July 6, 1946 in Sao Paulo, Brazil. He began playing guitar at 14 and used the nickname his mother had given him, Toquinho. he learned music with masters such as Paulinho Nogueira, Edgar Janulo, Òscar Castro Nieves, Isaías Sávio and Leo Peracchi. In the 1960s he started to accompany professional performers, such as Elis Regina, Chico Buarque, Trio de Zimbo, Señales De Valle, Trío Jazz de Bossa Nova Tayguara, etc.
At 17 he made good friends with Chico Buarque, with whom he composed one of his first songs Luna Llena. In 1966 he recorded his first LP, O violâo do Toquinho, and a year later, he composed Boca da Noite, together with Paulo Vazolini, which became one of his best known songs.
In 1969 he traveled to Italy with Chico Buarque and they played over 40 concerts. Back in Brasil, he recorded his second LP, Toquinho, which includes his first hit, "Que maravilha," written with Jorge Benjor.
It was at Buarque's home where he met Vinicius de Moraes and the renowned poet was very impressed with the young guitarist. Vinicius said: "I have collaborated with excellent musicians like Tom Jobim, but I am petrified with my new colleague: Toquinho is extremely versatile. He performs a waltz like a samba; he is a prodigious person who manages to communicate with all means".
Toquinho was 33 years younger, but the connection was sensational. In 11 years they recorded 110 songs and they collaborated in over one thousand shows. Brazil and the rest of the world were charmed by this collaboration and productivity. This relationship had its first rewards in august of 1970, with a recording at cafe La Fusa (Buenos Aires), which also included Maria Creuza. The La Fusa LP became a hit worldwide.
Other highlights from Toquinho and Vinicius de Moraes are the recording of La pazzia, l'inconscieza, l'allegria (1976), with Ornella Vanoni; the Caneçao (Río de Janeiro) show in 1977, with Tom Jobim, Vinicius, Toquinho and Miúcha, and the show Dez anos de Toquinho e Vinicius, in 1979.