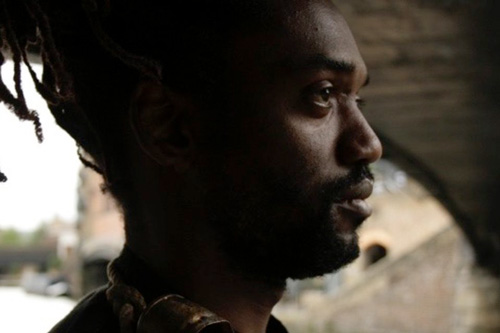 Brazilian percussionist and composer Adriano Adewale was born in Sao Paulo, Brazil. For many years he was known as Adriano Pinto, a colonial name he received at birth. After his visit to Africa (Nigeria and the Benin Republic), searching for his roots, he changed his name to Adriano Adewale Itauna, respectively from the Yoruba-Nigeria and Tupi Guarani-Brazil. Adewale means royal child who come back home and Itauna means black rock.
Music has always been part of Adriano's life. His father, an aficionado percussionist, used to play drums during carnival, and drumming was also a big feature of family gatherings. Adriano's maternal grandfather used to play clarinet, his uncle accordion and every weekend they would meet and play 'Chorinho music', a style also known as Brazilian Jazz.
Two uncles played a great influence on Adriano's career; Claudio Silva, who was a virtuoso 'pandeiro' player, and Joao Nicanor, a singer-songwriter, guitarist and actor.
While working as an actor, Adriano took piano and percussion lessons, followed by a degree/BA in classical music-percussion at the University of Sao Paulo State. In April 2000, Adriano moved to the UK, quickly establishing himself as a respected percussionist, composer, educator and band leader.
In 2002, Adriano was introduced to Italian guitarist Antonio Forcione and soon became part of the Antonio Forcione Quartet.
In 2004, Adriano went to Africa (Nigeria-Benin) in search for his roots and also to study music with great master percussion players. The trip deeply changed Adriano's playing and understanding of his own culture in many aspects.
Upon his return, he went on to study further, this time a Masters course in Music/Performance at SOAS – School of Oriental and African Studies in London. His first UK band, Sambura, released the album: Cru in 2006.
In 2008, Adriano released his first solo album, the critically acclaimed Sementes (Segue records) produced by Gilad Atmov. It featured the 'Adriano Adewale Group', an international line up of musicians, including Australian born double bass player Nathan Riki Thomson, Senegalese Kora player Kadially Kouyate and Brazilian flutist and saxophonist Marcelo Andrade.
In 2012, he released The Vortex Sessions, a collaboration with the leading Brazilian piano player Benjamin Taubkin. This was followed by Raizes (Caboclos Records) in 2014, his second solo album with the 'Adriano Adewale Group', produced by Chris Kimsin (Rolling Stones, Jimmy Cliff).
Adewale is also the mentor behind Catapluf's Musical Journey, a concert that introduces young audiences to Jazz, commissioned by the EFG London Jazz Festival. With one CD released,  Catapluf's Musical Journey has toured many parts of Europe including Norway, Sweden, France and Scotland.
Adriano's characteristic sounds come from organic materials, connected to nature. They are made out of wood, clay, metal, skins and the philosophy behind it is the connection with the four classic elements: water, earth, air and fire. Playing percussion is about making music.
Over the years, Adriano has worked as a curator and artistic director. From 2009-2010 Adriano was an artist in residence at the Lakeside Theatre, Colchester. He also curated 'Festival Brasileiro', which involved theater, dance, music and fine arts from Brazil, and challenged presiding conceptions of Brazilian culture. As part of the festival, he arranged for and conducted the Essex Youth Jazz Ensembles.
As a composer, Adriano has been commissioned by Bath Music Festival to write a new music piece for the opening of 2011 and 2012's Bath festivals. He was also a composer/music director of dance-theatre piece Ballroom of Joys and Sorrows, a collaboration with Kate Flatt (original choreographer of Les Miserables). He has composed for dance companies, including Phoenix dance company 2016, with whom he wrote the score for 'Undivided lovers', a dance piece based on and celebrating Shakespeare's 400 anniversary.
Education is part of Adriano's life. He is often writing new music to collaborate with primary school pupils both singing and playing instruments.
Adriano has performed with leading word musicians such as the great singer Bobby Macferrin, and pianist Joanna McGregor with whom he still works and play as duo, combining classical, jazz and contemporary classical music.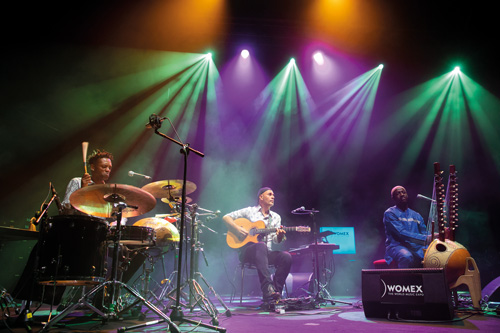 In 2018, Adriano formed AKA Trio, together with Italian guitarist Antonio Forcione and Senegalese kora player Seckou Keita. The trio released an album titled Joy in 2018.
Discography:
Sementes (2008)
The Vortex Sessions (Adventure Music, 2012)
Raizes (Caboclos Records, 2014)
Joy (Bendigedig , 2018)
Author:
Angel Romero
Angel Romero y Ruiz has been writing about world music music for many years. He founded the websites worldmusiccentral.org and
musicasdelmundo.com
. Angel is also co-founder of the
Transglobal World Music Chart
. Angel has also produced and remastered world music studio albums and compilations for labels such as Alula Records, Ellipsis Arts, and Music of the World.