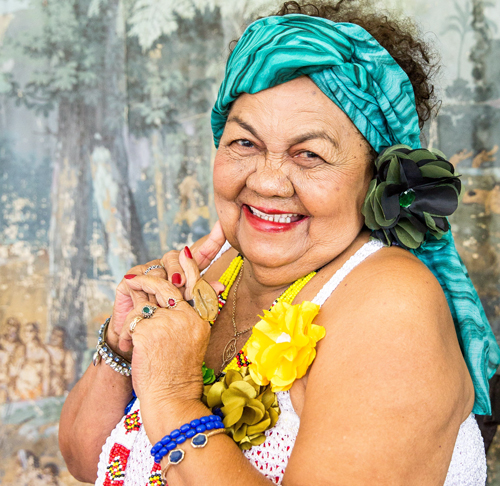 Dona Onete was born on June 18, 1939 in Cachoeira do Ararí, located in the delta of the Amazon River, across from Belém. She grew up further down the river, in Igarapé Miri, 100km away from Belém, where she regularly attended local dances of carimbó, siriá and banguê. She explains she only started to sing suitably at the age of 11. "I used to spend the whole day on the river banks, washing clothes. One day, I saw a dolphin and thought that I should sing for him. The next day I sang again, and another came, and another, and soon a whole family of dolphins came to listen!"
By the age of fifteen, she was singing samba, quadrilhas, boi bumba and other northeastern Brazilian genres in the bars of her hometown. "One of my biggest musical influences are Marajoara, local cowboys who improvise songs. They turn common phrases into beautiful poetry and whenever I write a song, I remember them".
She became a Professor of History and Amazonian Studies in Igaparé Miri and passionately researched the rhythms, dances and traditions of the indigenous and black people of the area. This led her to form several music and dance groups, which regenerated traditional customs, and that eventually saw her elected as the Municipal Secretary of Culture of Igaparé-Miri. "I helped local musicians and local culture that people didn't value. I have the chance to help Amazonian communities through my music so I cannot just sing and close my eyes to the people's plight."
Absorbing multiple genres and rhythms, Dona Onete also began to compose, creating the hybrid genre for which she would later become famous, the carimbó chamegado.
Carimbó is a rhythm and dance from Pará, influenced by both African and European traditions. However, Onete has her own vision of the genre – carimbó chamegado: "I took lundum and carimbó, two wonderful genres, and mixed them with the rhythm of the songs from the slaves to create carimbó chamegado. It's slower and more sensual than carimbó," she adds. She composed throughout her career over 300 songs, but it was not until she retired that her musical career took off, and even then, it was only by accident.
She and her second husband moved to the quiet area of Pedreira in Belém, with the intention of relaxing the rest of their days, singing as she always had done, for her own pleasure. A local band heard her singing though and she claims, "thought I was a young woman, because my songs are pretty cheeky. But when they caught sight of me they were shocked to see a lady of my age!"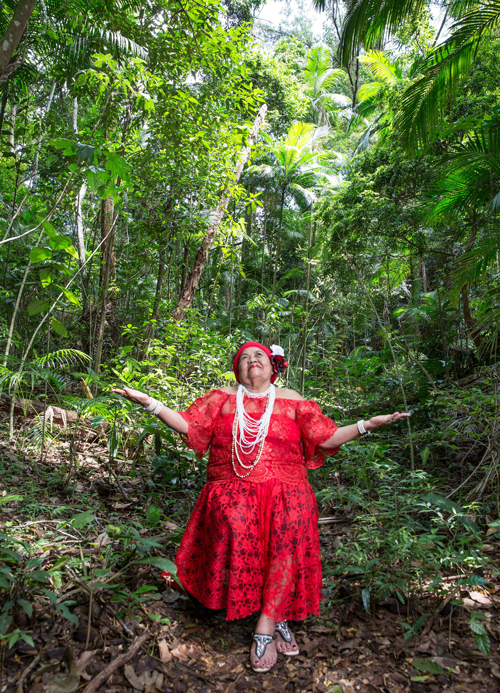 Her age and spicy sense of humor was undeniably part of the charm for this band who invited her to sing with them. Believing herself to be past her prime, Dona Onete initially rejected the offer but she agreed eventually and before long, she had become something of a cult figure in Belém. "Sometimes, when you think you've given all you've got, you realize that, in fact, you have a lot more ahead of you," she stated.
She recorded her debut album Feitiço Caboclo aged 73 and an international release from Mais Um Discos in 2014 saw critics fall immediately for this high-spirited, saucy and sexy septuagenarian. Dona Onete received invitations to perform at high profile world music festivals and venues: WOMAD UK, Paris's Cabaret Sauvage, and Portugal's FMM Sines in 2015.
On Banzeiro, Onete proved that age is nothing but a number as she increased the tempo with tracks such as the banguê that is the title track plus the lively carimbó 'Faceira', among others. Banzeiro is the wave created by boats as they pass through the river.
After Banzeiro, Onete's reputation has blossomed in Brazil. She performs throughout the country to mostly young audiences. She composed and sung the theme song for one of Brazil's leading soap operas (A Força do Querer) and was awarded the Brazilian Ordem do Mérito Cultural in recognition for her contribution to Brazilian culture. She also plays benefit shows for endangered Amazonian tribes.
In 2019 she released Rebujo an album that features styles born in Belém: carimbós and bangues, as well as cumbia, romantic brega and samba. The album includes numerous Amazonian allusions: the piranha (Festa do Tubarão), mango-scented ticks (Vem Chamegar), biting tucandeira ants (Balanço do Açaí), African deities such as Borocô (Tambor do Norte) and banho de cheiro: an herbal bath used to ward off evil spirits (Mistura Pai D'Égua).
The title Rebujo is the name for the turbulence in a river created as currents pass through. The rebujo raises silt and detritus from the riverbed giving the Amazon its muddy color – and making the waters unsafe for swimmers.
Dona Onete produced Rebujo with long-time collaborator Pio Lobato (guitar) and also includes Breno Oliveira on bass, Marcos Sarrazin on saxophone, Vovô Batera on drums, and JP Cavalcante on percussion.
Dona Onete has gone from playing small bars in her hometown to thousand capacity shows across Brazil and some of Europe's most respected festivals. "My energy comes from the river," she says. "It's like blood rushing through my veins, there's no stopping it – or me"
Discography:
Feitiço Caboclo (Na Music, 2012)
Banzeiro ( Mais Um Discos/Na Music, 2017)
Rebujo (Mais Um Discos, 2019)